Turlough O'Carolan - Irish Harper

The music is Carolan's Concerto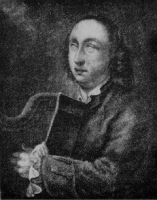 Turlough O'Carolan was born in 1670 near Nobber, County Meath. He was one of the last Irish harpers who composed and a significant number of his works survive in single line melody. Carolan's fame was not due to his skill with the harp (having started at 18), but to his gift for composition and verse.
Carolan's father, John, was either a farmer or a blacksmith. John Carolan moved his family to Ballyfarnon when Carolan was fourteen to take employment with the MacDermott Roe family. Mrs. MacDermott befriended the boy and gave him an education. Around the age of 18 Carolan was blinded by smallpox.
Even before his illness Carolan had shown talent for poetry. Carolan studied for three years at the end of which Mrs. MacDermott Roe gave him a harp, a horse and some money to begin his career as an itinerant harper. For forty-five years Carolan would travel throughout Ireland composing tunes (planxties) for his patrons.
His first patron, George Reynolds of County Leitrim suggested Carolan try composing. With this encouragement Carolan composed Sheebeg and Sheemore. Thereafter Carolan composed tunes for his patrons, usually composing tunes on his journeys. He traveled widely throughout Ireland.
Carolan was never highly regarded as a performer. His gift was in musical composition and poetry. His practice was to compose the tune first and then write the words. This was opposite of the traditional Irish practice. Although music was always important, prior to Carolan, poetry always took precedence.
There were three musical traditions in Ireland, art music, folk music and the harper tradition. The harper tradition served as a bridge between art and folk music and was the primary conduit for the oral tradition. Carolan created a unique style by not only combining the two art forms but by adding elements from the music of then-contemporary composers, including Vivaldi and Corelli. He greatly admired Geminiani, whom he probably met in Dublin.
Like many harpers, he drank a great deal and he had a temper and many tales are told of his exploits in both aspects.
Carolan's melodies survive only as single line melodies, without a clue to how he accompanied or harmonized them. The National Library of Ireland has the only copy of Carolan's works. The book lacks a title page and was originally thought to have been published in 1721 in Dublin. However, based on the watermark the book dates no earlier than 1742. It is possibly a copy of the work published by Carolan's son (with Dr. Delany) in 1748.
His wife died in 1733.
In 1738, feeling ill, Carolan returned to the home of Mrs. MacDermott Roe. His final composition was to the butler, Flinn, who brought him his last drink.
Carolan's funeral was widely attended and, in fitting tribute to the man, the wake lasted four days.