Days 45 to 53
8 May to 16 May
I have fallen behind in my writing simply because I have been having trouble with the keyboard but it's working today. I am in a hotel room South of Bordeaux, and South West of Gradignan, a little off my route, but still heading in the right direction.
A few days ago whenever I crossed over La Gironde Estuary on the ferry from Blaye to Lamarque I met up with a French Pilgrim, we were on the 7.30 a.m. Ferry. He obviously saw my Rucksack, and from the far side of the ferry, he waved and I smiled my way over to him. We shook hands, I'm Brian, I'm Alain, Compostela? Oui, Moi aussi, we tried to communicate, did our best.
I found out he was 63, his name was Jarnot, he wrote down his address, it is illegible, he intended to walk to the outskirts of Bordeaux, get transport across the city, he had a sore foot but was managing all right. The ferry was coming into dock, I returned to my Rucksack, we disembarked and started to walk, he waited for me to catch up. We were in single file along a minor road, ferry traffic meeting us, so we hugged the verge.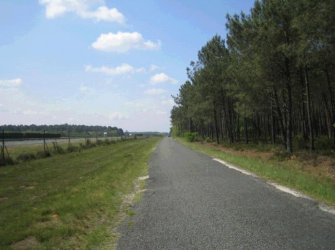 After about 2k we reached a village, Lamarque and here another 2 pilgrims, a couple, perhaps mid-fifties, Patrice and Marie Louise, from Brittany. This is terrific I thought, they had guides in French, very detailed, with a map on each page. I tagged along following our route as close as I could with my map. I also have a guide in English, but I'm afraid it was not detailed enough, and is a little out of date. This is fabulous I thought, on one occasion I had stopped to take off my coat, they pulled away from me but at their next turn Patrice was waiting for me to appear and he indicated the road. Couldn't be better. They kept up a good pace but Alain was suffering a little, I dropped back to keep pace with him, he indicated that he was going to stop and have something to eat, I don't carry food, I try to reach a village and have a pichet, 250ml of wine, water and a snack or sandwich sometime from 12.00 onwards. We were quite close to the village of Arsac, I said I would go on to there, and see him on the route later. A fatal mistake! The map which I had shows the road going directly over what looks like a causeway between 2 lakes, however when we reached the larger of the 2 lakes the road turned through 90 degrees, and then went through two lakes, Arsac would be on my left whenever I would reach the road, we were walking on a very rough path, but would emerge onto a tarmaced road after the lakes and perhaps 5km short of the village. I gaily turned left at the road, Patrice and Marie Louise were no where in sight by this time, they were faster than Alain and I knew I had walked more than the distance to Arsac, suddenly I saw a sign, Ligondras. I was going away from Arsac. I consulted the map; the exit after the two lakes was on the wrong road! I should have taken account of that 90-degree turn. I immediately turned and headed back, there was a pub just at the edge of the village as I came into it, and so I went in for my midday break. I sat outside and watched for my walking companions, no sign of anyone; they must have passed while I went off on my travels! Unfortunately I never saw them again, never even got a photograph, I thought I'd wait to get it whenever we would stop to eat.
Christine had booked me into a village, about 5k from Arsac; she couldn't find any accommodation at either Le Pian Medoc or Blanquefort. So I struck out for Linas, the others would have gone on towards Blanquefort. I hope they didn't wait around too long for the lost Irish Pilgrim! They would be staying in Hostels, I imagine, I don't even have addresses for the Hostels. It will be different in Spain most Pilgrims from England and Ireland start from the Pyrenees, and the guides are up to date, reviewed annually.
I don't anticipate any problem, rural France is another situation altogether, without Christine's help I don't know how I would have managed, there would have been no Marilou that's for sure! The following day I walked through Bordeaux, right across the City and on to Gradignan. The booklet I have says 6 hotels, tourist office. The first Hotel has no accommodation, the receptionist rang the second hotel, booked out, please try another, yes they can put you up. A Campanile, about 2k back the way I had come, I had passed it and I knew it was more like 3k, I want to keep heading South, will you try another hotel for me. She said there were no more Hotels, it was only 2k back, there were no Chambre d'Hote, no Tourist Office, she needed to confirm the booking. Naturally I took it, 2-3k is a long way after nearly walking 40k. I should have stayed in Bordeaux, but I thought get to the South side and find an Hotel there, but there were none until the Campanile, and I had purposely passed it!
I had been very impressed with what I had seen of Bordeaux as I passed through it and I resolved to visit it on the following day, which is what I did, took a bus a little way towards the city from my Hotel, got off at a terminus and boarded a tram, for the City. I have never yet been on the Lewis, but I have seen the trams, and these were exactly the same. I was very impressed, they were full of people boarding and getting off at each station, lots of people standing holding on to the poles etc. I neither paid on the bus or the tram, in or out of the city. You purchased tickets at a machine, I looked but couldn't understand. Had I been challenged I would just have to plead ignorance or insanity!
I got a haircut in Bordeaux, I went into a salon, whipped off my chapeaux, exposing a nearly bald head to a startled girl, indicated that I just wanted the clippers set at number two and fire away. No bother, not being very good at French, I can only assume that's what she said, perhaps it was No problem. She indicated a chair for me to sit down, after perhaps 10mins. No one coming to look after me, I approached this lassie again. I tried to say how long, she took it to mean how much, I think she said 11euro, no bother there, not nearly as cheap as Eddie in Rostrevor, and there'd be no craic, but sure you can't have everything. She eventually got the message about the time. Indicated it would be another 20mins. No, I wouldn't wait. Merci, and I'm on my way. I could see her smiling as I left, they don't get too many like me in during the day! It was a good job I did, shortly after I see a sign Coiffeur Masculine, wow, lets go in here. I met Pierre Fourcade, Maitre Artisan, Coiffeur Pour Homme; I'm going to get Eddie to renew his sign in Rostrevor. Wouldn't that look well, Eddie, Maitre Artisan, Coiffeur Pour Homme.
Pierre has walked the Camino, he greets me warmly, how long on the road, how many kilometres, when will you finish, this mind you without his using any English and I using my extensive French - Oui - that probably was the limit of it! Can I come back at 2.00; he closes from 12.30 to 14.00 hours. No bother!
I am at his premises at the appointed hour, I am robed, the tissue around my neck, a heavy necklet is put around my neck and he starts. He never stops talking, clipping away with scissors, stopping occasionally to look at me while he is making some point of which I haven't a clue. Then in with the clippers, round the two sides and over the top. You could count the number of hairs on the top with your two hands but nevertheless it must be done. It's a lot closer than a number two. Then its the razor job, he takes a liquid out of a bottle runs it along the area to be shaved with his finger and then uses the razor, you can feel the blade slicing through the hair and you know he i s making a clean line. After that he pours liquid out of another bottle, it enlivens the scalp, has a cold feel to it, as an alcohol would, and he vigorously massaged m y whole head, a very nice feeling. Another minute and he repeats the process, pouring and massaging, I relax and enjoy. We shake hands again, 13.50 euros, he hands me a receipt, he has written on it Ultreia, I have no idea what it means but he wished me well on my Camino. I enjoyed the experience.
Bordeaux is very impressive, and there is a lot of work going on with streetscapes, buildings being cleaned that sort of thing. Large crowds of people moving about, the temperature was 20degrees the day before whenever I had passed through, a little cooler today but every bar, restaurant and cafe have patrons sitting outside, eating, drinking and talking to their friends. I t seems a most amenable city. Beautiful Buildings, Architecture, and sculptures and really impressive public gardens. I spent the day from early till some time after 6.00 in the evening there. There was a very large building, quite close to the Tourist office devoted to Bordeaux Wines, I had intended to visit it, but I left it too late, perhaps I'll visit it again at some future time. Enough for now, and I never started on the Flax! Keyboard working like a dream, what did I do right? Please let me know that you got this. I probably won't be able to keep a copy, but I don't need one.
Saturday & Sunday 14th & 15th May
I'm just up from the dining room, there's a big crowd down there tonight. A wedding party, and this would actually be my 3rd wedding today!
I went into Gradingnan to go to 5 o'clock mass, and post some photos to Brian. It's about 3km back into centre, and that was my second time today. I went into the Chapel on my first visit and noted Mass on Samedi was at 17.00 hrs. I had left a photo card to be downloaded on to disc for sending home, and I couldn't get it before 4.00, so I would return, post photos and go to Mass. I was early; whenever I arrived a wedding party were just coming out.
The Bridal Party came out and stood around on steps, for at least 15 minutes. I began to wonder if they were all going to 5.00 Mass. More people arrived, in wedding attire, the Priest came out, and one man was there with his dog! It really looked a funny set up, several other people, like myself, stood and observed. Eventually one of the group went away and returned in what was obviously was the wedding car, the bride and groom got in and drove away. People were going and people were coming, I couldn't make head nor tail of it.
People were moving into the Chapel, obviously wedding guests, 5.00 came and went, all the guests were either away or in the Chapel, a car pulls up, a wedding car and another Bride gets out with I presume her father! So much for my Mass, I watch the Bride go into the Chapel, and head for the hotel, some 30minutes walk away. Later that evening I came down for my dinner, and here's another Wedding Party coming into the Hotel!
And me mad for singing 'Wedding Daze' -

'Here's to long happy days and many tomorrows,
and may any sorrows bring you no alarm,
you set out to-day on the trip of a lifetime,
may God speed your journey and keep you from harm
and send you wee children to keep your hearts warm'

But I restrain myself, they wouldn't understand one word!
However, as I sit there, a couple I recognise passes! Proves it is a small world! The owners of the Campanile I had just been in were guests at the wedding. They stop, we shake hands, the wife has some English, she enquires how I am, and the walking?
A lady sitting quite close, very charming, well dressed, nice bright smile, of a respectable age, engages me in conversation after they move on. She is Marie Therese, she is walking, where do I come from, she is from Brittany, she repeats my name, Brion, it sounds sort of nice, but alack and alas she is not Marilou, though if a fella was stuck, you never know!
She talks away, I hardly understand a word, I'm not sure whether she is going to or coming from Bordeaux. She mentions Le Barp; I assume she is here now, which is where I am myself - sitting outside a pub in the afternoon sun, with my keyboard on a small table, my glass of wine at my side, and steak and chips inside me. Mes Affaires are still in the pub, so they know I'll not run away without paying.
Myself and Marie Therese breakfasted together this morning, she was all ready for the off after breakfast, I took my time and packed, I thought I might see her on the road, but I haven't caught sight of her yet, but it's a long time till night! I met two Pilgrims as I came into Le Barp, we shook hands, they also are from Brittany, staying in a Gite d'Tape close by. It was about 2.15, everything closes down at 2.00, I spied a pub open and although I would have liked to find out more, I hurried on. I saw no sign of them whenever I came out, but we'll probably meet on the road.
A rather dull journey today, long straight road, through the first pine forests I have seen, mixed with native coniferous trees; perhaps the pines are native also? The only thing of note was a monument to 48 Fire-fighters who had died in a forest fire, quite close to here, in 1945, I assume just after the war.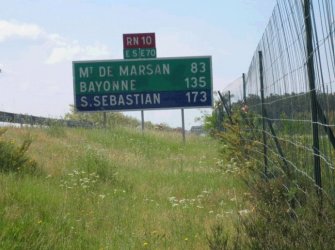 The other thing was a man cutting grass with a scythe; I should say hacking grass with a scythe, since that was what he was doing. No graceful flowing movement there, he swiped at it, and hacked and pulled the scythe towards himself to cut the long grass along the end of his lane. Of course I thought of my Grandfather, Johnny Boyle, and how he handled a scythe. He opened all the fields of hay, or corn to prepare them for the reaper. He mowed and we lifted and tied behind him, stopping every now and then to take the stone, an abrasive stone you bought in the shop, tapered at both ends, out of his pocket, handle of scythe on the ground, blade pointing to the ground, and then with smooth long strokes the stone is drawn and pushed to both sides of the blade, the point would get a little extra few strokes, and when he was satisfied that all was well, he would start again at the mowing.
Nothing was rushed, everything at an easy, measured pace. Before he started of course, he would have set the handles and blade to suit his stroke. There were various shapes of shafts but each had two handles which were adjustable, both for position and angle on the shaft. The blade could then be set by means of a wire which hooked onto the blade and was fixed at varying lengths to the shaft, thus setting the blade at the angle that suited the mower.
Monday 16th May
Here goes again! Keyboard working
I have arrived in Belin, it is a small village, I am booked into a Chambre D'Hote, and it is really nice, big house just off the main street, large bedroom with bathroom en suite. The house is probably fairly old and at the moment I am sitting out in the garden enjoying the afternoon sun. My hosts are expecting another pilgrim this evening, a lady also on her way to Compostelle, they do not say Compostela, no, it is Compostelle. I have been on the Route de Compostelle since I left Bordeaux. I had already had my lunch whenever I arrived here, at a small restaurant on the edge of the town, not really a town two villages about 2k apart. The lunch was beautiful, "Fruits de Mere u Gratin", full of mussels, squid, cockles and such like, all shellfish, washed down with a quarter pichet of Vin Rose and water. I might walk back there again this evening around 8.00. I saw my companion of yesterday evening; she is now away on to Le Muret, about another 9k. Le Muret would have been my preferred destination also but Christine could not get accommodation, but where I am is terrific.
I met 4 new pilgrims yesterday, 2 as I came into Le Barp, Jean Jacques and Alain; they were standing at the Church as I approached. All pilgrims I find extremely friendly, a warm smile, an outstretched hand, and of course the introductions and inevitable questions - "Where have you come from? Where are you staying? How far will you go tomorrow?"
The fact that I'm Irish, have walked through Ireland, and down from Cherbourg raises several eyebrows - 'Tres bien, tres bien, bon courage'
The hotel in Le Barp was terrific; it was closed on Sunday, the day of my arrival, and would also be closed on Monday, i.e. today, which is also a holiday! Christine had arranged for me to get the key at the owner's home, at the back of the hotel at 5.00 in the afternoon. I had arrived at around 2.30, found a pub open, had steak and chips and my usual midday tipple, tres bien!
Up to the hotel at 5.00, but before that I should have told you my breakfast companion had arrived in the meantime, she had a coffee and we arranged to meet for dinner, in the pub, nowhere else open but good wholesome food, and plenty of wine. I wouldn't get dry.
Up to the hotel, round the back to the house, I discovered there that the front door of the hotel was open and someone was waiting for me.
Back to the hotel, I opened the door, walked into what would be the bar, here was the lady of the house demonstrating (to what turned out to be two Swiss Pilgrims), how to use the coffee machine. It would be self service in the morning!
Introductions of course and the, what now has become, the usual patter, a lovely couple, not going all the way to Compostela on this trip. As I understand it their daughter is expecting and they will return home for the confinement, and may complete their Compostela next year. They walked part of it last year also, they are from the high Alps, living at over 1400m. The landlady wants to show me how to work the coffee, but I indicate that Alain will be my coffee maker! And so he was this morning, I have a photo of him making the coffee and Jacqui serving it! We had a good laugh this morning, and an excellent breakfast, as much as you wanted, prunes, apricots, hazelnuts, packets of cereal. In the fridge bottles of orange juice, milk, loads of different breads and jams in small jars.
They are very trusting, the bar was open, the restaurant with its racks of wine was open, and we were to help ourselves to breakfast, open the door, lock it behind us and return our keys through the letter box. I met both the landlord and the lady of the house and they were both extremely courteous and friendly. My fellow lady pilgrim, from my last Hotel, with whom I was to have dinner that evening was also there. We almost shared a room - Numbers 7 & 8!
Ah, but she was not Marilou! - But, nonetheless a most charming lady, who chatted away to me. I did not understand a word, nodding and saying 'Oui' the odd time, or grunting, but she obviously understood that I had perfect French, since I could raise my shoulders the odd time and spread my hands out in that knowing way.
We got on really well, she heads of in different direction tomorrow but we may meet in Dax. I have asked her to join Anne, Carl and I for an evening meal, (both of them have perfect French too so it should be a very entertaining evening!), she is a lovely lady and it has been a great pleasure to meet her.
Francois, the lady of the house, has just brought me out coffee, both herself and her husband have been very warm and welcoming, but I'll have to have a word with Christine! No husbands please!
I parted with the Swiss couple and Marie Therese in front of the Church, just up the road from where I now sit, they also are booked into Le Muret and they also take a different route to myself, they do not go through Pissos. But who knows our paths may cross again.
Talking about Churches, the only ones you ever find open are those in large towns or cities. I believe there is a key holder somewhere in the square but I do not have the address, it would be in the French Handbook. I should also have another easy day tomorrow, no more than 4-5 hours walking I think.
Flax
That's my travel log up to date. I'll now relate what I can remember about flax and our part in it. I keep using the "we", this is not the "Royal we" this would the John and I - although whenever John started to work I went to Tullydonnell on my own
Flax must have been the most labour intensive of crops. The preparation for its growth started a year before it was even planted. It was planted on very clean, well drained soil; probably the drumlins of South Armagh were an ideal location for its growth. The crop before flax would have been potatoes, turnip or some of those crops which cleaned the ground and left it easy to cultivate and harrow the following spring. The ground was cultivated, harrowed, the slipe would have been pulled along behind one horse, you threw the scaw and any stones into the slipe and dumped them at the headland well out harms way. The seed was then sown, not as you would with corn, no grass seed was mixed with it. The flax would grow on its own. You kept the ground clean by pulling weeds regularly, and carefully of course, the flax was precious and you didn't want to lose any of it. So your flax grew well nourished and carefully looked after. Whenever the crop was nearly ready for pulling, you pulled flax by the root nothing was going to be lost, you went to the bog, in our case it was to 'Frog's Bog', up nearly to Kilcurry, that you went. The house and cart would be pulled out one morning, Peter or Tommy would have put the collar and the big straddle on the horse, down to the cart house, reversed the horse in between the shafts of the cart and tackled the cart up.
Off we would set with Grandad; he would have the scythe, and the sharpening stone, a basket full of freshly griddled bread and butter and maybe jam on it. He would have a hard boiled egg, a great man for an egg me Grandad, and a can filled with a mixture of milk, water, and oaten meal, with a good secure lid, fastened over a bit of muslin cloth.
We would be away for the day, cutting rushes to make the rush bands with which to tie the flax. It was almost 3 miles to the bog but the mare was allowed to walk along at her own pace. It was seldom that you ever trotted a mare, and maybe we'd stop to have a craic with a neighbour, maybe big Peter Murray, or some of the Ringer's, the McNamee's, anyone along the road.
Grandad smoked a pipe, and it was a good 10 minute job to get it going, he'd produce the tobacco, a knife that was as black as the tobacco, his own hands were blackened from work as well as from rubbing the tobacco, cut the tobacco into small pieces and then rub it well between his two hands, knock the pipe out against the side of the cart, and proceed to fill it and stuff the tobacco down into the bowl with his finger. While he would be rubbing or cutting, the pipe might be held in by finger and thumb resting across his fingers or be hanging from his mouth gripped firmly by his few remaining teeth, all the while chatting amiably away. At last we'd reach the bog; the horse would be loosed from the cart, tethered by its reins and allowed to graze along the long acre. The long acre was the grass margins along most roads, where the Tinkers would graze their horses and put up their canvas covered bivis.
There was a family of Joyce's, who used to winter on the New Line, just the Silverbridge side of Lavelle's shop, they were decent people and were well known around the country. Good tinsmiths and at that time there was some sort of a living to be made for a traveller. They were regular callers to the Hill, and never left empty handed, a sup of sweet milk or a griddle of bread or maybe some oaten meal. 'God bless you mam, it's you are the decent woman'.
And of course there were new cans needed or a pot that needed repaired, there was always something. There was a young fellow with them and I have never again heard a whistler like him, he could and did imitate any bird, and whistle tunes away all the day. We used to sit with them at their fire and play with the children as any youngster would. Many's the time we'd see a repaired patch at a potato pit, where they'd opened the pit and took a few potatoes for the pot, but Grandad passed no remarks, they only took what they needed and did not abuse it. They scavenged off the country, but it was mostly rabbits that they caught and cooked, this of course was long before maximatosis was introduced to cull the rabbit population.
So the horse was let out and Grandad would start to mow, we lifted and tied behind him, big sheaves of long rushes, the horse was hitched again to the cart, the rushes loaded, if we were lucky we were allowed to sit on top, holding on as usual and Grandad usually walked alongside the mare on the way home, stopping of course to pass the time of day with anyone who chanced along.
The rushes were thrown into what would be the continuation of the cart house, a lean-to. All sheds were lean-to's; a high back wall, rough timbers, covered in red leaded tin.
In the following days we would make rush bands. These were made by taking a handful of rushes, splitting it into two equal parts, the heads of the rush were then tied into a reef knot, a knot, that as you tightened by pulling on the butt ends became even tighter, you crossed the two ends, with your left hand you turned the right hand end over and under and across the piece you were holding in your left hand, at the same time you pushed your right hand against the left hand piece, grabbed this turned end with your left hand and with your right hand finger pulled the right hand piece through the loop you were after making. Sounds complicated and difficult to describe, but really quite simple.
Granddad showed us how to make these bands and also the grass band that we would use to tie hay. He was patient and we were willing and eager scholars. The first band you made then was thrown on the ground and those that followed were placed at right angles upon it. I can't remember how many bands made up a bundle of bands, they were roughly counted, I think perhaps it was around 30. Whenever you had your bundle of bands made, you tied your bundle as you would tie a sheaf of corn or hay, and threw it to one side and started again. You would be kneeling on a rolled up bag to soften the place for your knees and keep you off the floor, but the weather would be warm, you were beside the house and there'd be plenty of chat, Granny would be about, over to see how you were getting on - 'Good gasun, you're doing well, would you like a sup of tea, leave that for now and come on in, I want you to run down to the shop for me, take these eggs down and bring me up a white loaf'
Off to the shop with maybe a 3d bit to spend, or maybe to find some money the fairies had left in the lane for the Boyle grandchildren. Magical and wonderful times.
When I mentioned kneeling on the rolled up bag I was thinking of another time of the year whenever we knelt on the bag and that was to cut seed - seed potatoes. You cut through one eye ensuring that each seed had a couple of eyes in it, that could be cold work, sore knees, stiff dirty hands and fingers; that was work carried out in the short days of winter or very early spring.
The bands are now made and are ready to tie the flax; the pit into which the flax will be buried has to be made ready. Down to the pit with the drag, a job for Tommy or Peter, clear out any growth that might have accumulated since flax was last buried, the stones which will weigh down the buried flax are carefully put back from the edge of the pit, the area around the pit is trimmed back, any overgrowing grass is cut back and removed leaving a nice clean area all around the pit to receive the pulled flax.
All is ready, it only requires the pit to be lowered on the morning of the flax pulling by opening the shore which lies almost 2 fields away, to allow the water to escape into the stream. It is illegal to allow flax water, i.e. the water that remains in the pit after buried flax has been removed, into any water course, it is deadly poison, so the outlet is hidden away down stream. Like the threshing, flax pulling requires the help of the neighbours, word would have got around that Boyle's were to pull their flax next Tuesday.
Uncle Felix, although living on his own farm, the Fearon farm at Fearon's Brae, was always consulted, whether it was hay, corn, threshing, flax pulling, or whatever, he would advise on the best time to go ahead with the work in hand -particularly so with the flax pulling.
If McKeever was to be in the field you were sure to get a crowd of men at the pulling. McKeever, although his name was John, he was known universally as McKeever. A man renowned for the craic, there was not his equal in South Armagh, he could be in a flax field, a line of men across the field all trying to better him, shouting over to him and he fielded every one of their comments, much to the amusement of those around. Sure he didn't have to pull flax at all - all he had to do was to have the craic, and man he did.
Tommy Balance, for those of you who know him is the same, a retort for any comment coming his way, I've never met anyone who could better him either. Tommy's good but he's not South Armagh; can do a good imitation, but nothing could touch McKeever.
McKeever was Felix's brother in law, married to Bridgie Fearon, Katie's sister, a daughter of old Biddy Fearon's, we knew her and loved her as Granny Fearon, but on the country she was known and respected as Biddy Fearon. A formidable woman, a matriarch you didn't mess with. Her word was law, and if Boyle's wanted him either at the thresher or the flax pulling he'd have to go; there'd be no living with old Biddy if he refused . So the news would come through Felix, McKeever is coming, you could be sure the field would be full. So if the weather was suitable, Tuesday morning it would be down to the field, open the shore to lower the water in the pit, the flax bands would already have brought down in readiness, the neighbours arrived either on foot or bicycle, a few would have pitch forks, but there wasn't much work for a fork, still a few would be needed. The line would be strung out across the field, a sheaf of bands beside each man, they would have maybe 3 or 4 bands stuck into the belt that each man wore, so that he didn't have to return to the sheaf of bands each time he tied a sheaf of flax. The rush band was strong; it would be used again even after it had been buried with the flax in the pit, it did not rot.
So you pulled the flax principally with your right hand, supported it against your left leg and kept it there with your left hand trying to keep all the butts level, you then laid that on top of the band, obviously at right angles to it. When you had a full sheaf you tied it as you would tie a sheaf of hay or corn, up on your knee, tighten, twist the band and turn it under itself, throwing it to one side, two hands running down each side gathering up any loose pieces that their might be, crop was precious you didn't want it lying about a field to rot.
Tea time, we would have pulled even though our hands were small and we would have to go several times to fill a sheaf, but we'd be sent to fetch the tea and see if Granny needed anything.
Nellie, Kitty, Gertie would have been in from next door to see if Mary, me Granny, needed anything. Bridgie probably would be up giving her a hand, but Mary, although small in stature and to me she was really, really old, was fit for it and was a very capable woman. Hot sweet tea, big mugs, lashings of griddle bread, men stretched out reclining against two or three sheaves thrown together, McKeever in full flow telling some outrageous yarn, Sweet Afton cigarettes, an odd pipe or two, it would most likely be Felix who'd call the halt. A hard man, a hard working man, hard on himself, hard on the pair of horses that he would drive relentlessly whenever he was laying off on the reaper, reins about his shoulders urging the horses on and up the hill, damn near driving over you if you hadn't the last sheaf lifted and tied off the previous line. He'd be back to his work, lead by example, but there'd be a twinkle in his eye, and maybe 'good gasun', which was praise indeed, and he enjoyed McKeever as much as any of us. So the flax would be pulled and drawn down to the pit to be buried and rotted.
Enough for the night, we only have to bury the flax now, weigh it down, tramp it to keep it down, drain the pit, drag the flax out, spread it out on the field, let it dry, lift it, tie it, stook it, take it to the Scutch Mill, have it scutched, take the flax into Newry market, sure I'm nearly there, maybe I'll have to walk back
Enough for now, please God this travels alright, and that whenever I start again this key board works! God bless you.
---
Days 54 to 57

BACK to Camino Home Page