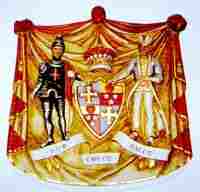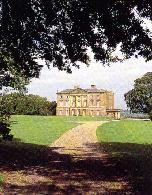 In the midst of a beautiful 700 acre estate on the shores of Strangford Lough, seven miles east of Downpatrick, stands Castleward - an 18th century "architectrual wonder".
Bernard Ward, 1st Viscount Bangor and his wife Anne could not agree, especially when it came to the architectural style of their home. A compromise was reached. Lady Anne got her way with the back of the 1760s house, which is in the Strawberry Hill Gothic style, while the front facade reflects here husband's neo-classic taste. This division of styles runs right through the house; the music room is in the severe classic style with Doric frieze and columns while the whimsical Gothic boudoir has spectacular fan vaulting.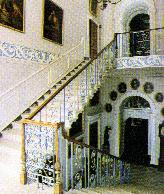 However the Viscount got one up on his wife by having a classical staircase. Interior decoration is a known cause of marital disharmony and Lady Anne eventually left her husband for good. The house is stunningly situated, surrounded by woods, farmland, landscaped gardens and lakes, including the Temple Water which is overlooked by a pedimented temple. An underground passage links the house to the stableyard, a hub of activity for visitors to the estate. Here visitors will find: The Victorian pastimes centre where children can dress in clothes from the period and play with popular Victorian toys A well-stocked gift shop A restaurant The laundry with examples of laundered linen, clothes and laundry machinery from the late 19th century.
The estate is situated 12 km northeast of Downpatrick; 2.5 km west of Strangford Village
Links: The National Trust