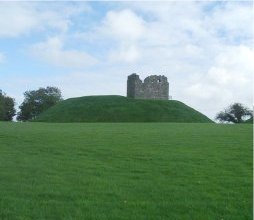 A fine motte and bailey erected perhaps during or before the reign of King John (1199-1216), though little is otherwise known of its history. On top of the 25ft high motte - originally defended by a timber palisade - is a stone tower, enlarged to become a tower-house in the 15th century. It is off centre on the top of the motte because much of the remainder of the top was taken up with a large hall to the north-east of it, which was soon burned because of its thatched roof. Around the motte is a ditch, and on the south-east side is a low crescent-shaped bailey which would have contained domestic buildings - and which was probably once joined to the motte by a wooden bridge - see reconstruction below.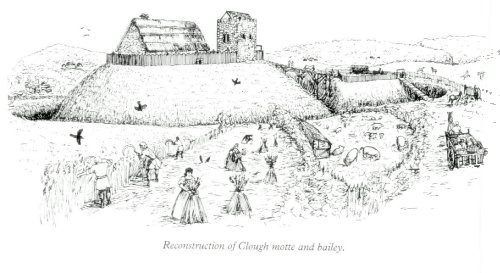 The artificial mound on which Clough Castle stands guards the western entrance to Lecale.
Dundrum Castle, of which Clough is believed to be an outlier, stands in the parish of Kilmegan, which since Anglo-Norman times has been part of the barony, even though it lies outside the physical bounds of the island. John de Courcy and his successors made Dundrum castle the military guardian of the bay and you may stand on the top of the round keep and look out over the fields and sandhills of Ballykinler in western Lecale.