For most of the millions of immigrants from Europe and other parts of the world, the journey to America was essentially the same. There were four steps involved:
Leaving Home
On Board
Inspection
Beyond Ellis Island
For many, the decision to leave was a family affair. Advice was sought - and help was freely given by entire families, friends, and even villages. The practice of one member of a family going to America first, then bringing others over, was common. From 1900 to 1910, almost 95 percent of the immigrants arriving at Ellis Island were joining either family or friends. Often those who arrived first would send a prepaid ticket back home. It is believed that in 1890 between 25 and 50 percent of all immigrants arriving in America possessed prepaid tickets. In 1901, between 40 and 65 percent came either on prepaid tickets, or with money sent to them from the United States.
After 1900, in addition to a ticket, however, an immigrant had to secure a passport from local officials, and a US visa from either American consular office or from the local consul at the port.
For many, simply getting to the port was the first major journey of their lives. Sometimes travelers would have to wait days, weeks and even months at the port, either for their paperwork to be completed or for their ship to arrive. Steamship lines were held accountable for medical examinations of the immigrants before departing the port. Most seaport medical examinations were just too rapid to disclose any but the most obvious diseases.
Finally, the immigrants were led down the gangplank to first-class, second-class, or steerage. Steerage passengers walked past the tiny deck space, squeezed past the machinery, and were directed down stairways into the enclosed lower decks. They were now in their prison for the rest of their ocean journey.
Three types of accommodations on the ships brought immigrants to America: first class, second class, and steerage.
Steerage was enormously profitable for steamship companies. Even though the average cost of a ticket was only $30, larger ships could hold from up to 2,000 immigrants, netting a profit of $45,000 to $60,000 for a single one-way voyage.
For most, the experience of steerage was a nightmare. The conditions were crowded, dark, unsanitary, and so foul smelling, that they were the single most important cause of America's early immigration laws. Unfortunately, the laws were almost impossible to enforce. In spite of the miserable conditions, they had faith in the future. To pass the time they would play cards, sing, dance, and talk. Rumors about life in America, combined with stories about rejections and deportations at Ellis Island, circulated endlessly. They rehearsed answering the immigration inspectors' questions, and hours were spent learning the new language.
By the time the trip approached its long-awaited end, most immigrants were physically, mentally, and emotionally drained. Yet, even with the shores of a New World looming before their eyes, their journey was not at an end.

Step Three - Inspection
Medical inspectors boarded incoming ships in the quarantine area at the entrance to the Lower Bay of New York Harbour. The quarantine examination was conducted aboard ship and reserved for first - or second-class cabin passengers. Very few cabin-class passengers were marked to be sent to Ellis Island for more complete examinations. In 1905, of 100,000 cabin passengers arriving in New York, only 3,000 had to pass through Ellis Island for additional medical checks. During the same year, 800,000 steerage passengers were examined at the island.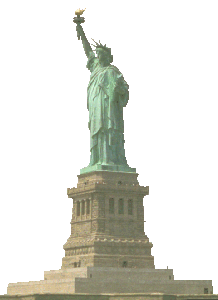 After the visiting medical inspectors climbed down ladders to their waiting cutter, the ship finally moved north through the Narrows leading to Upper New York Bay and into the harbor. The first object to be seen, and the focus of every immigrant's attention, was the Statue of Liberty. Just beyond the statue is Ellis Island. After the ship had docked in Manhattan, and cabin passengers were departing to the freedom of New York, steerage passengers poured across the pier to a waiting area. Each wore a name tag with the individual's manifest number written in large letters. The immigrants were then assembled in groups of 30, according to their manifest letters, and were packed on barges, while their baggage was piled on the lower decks.
Soon they would arrive at the island's landing slip and be led to the Main Building's large reception room. With the ground still swaying beneath their feet, and the shouts of a dozen different languages assaulting their ears, they met their first American, an interpreter. The interpreter's patience and skill frequently helped save an immigrant from deportation. The interpreters led groups through the main doorway and up a steep stairway to the Registry Room. Unaware, the immigrants were already taking their first test: a doctor stood at the top of the stairs watching for signs of lameness, heavy breathing that might indicate a heart condition, or "bewildered gazes" that might be symptomatic of a mental condition.
As an they passed, a doctor, with an interpreter at his side, would examine the immigrant. On about 20% of the immigrants who passed he would scrawl a large chalk white letter; which meant the immigrant was to be detained for further medical inspection.
If immigrants had any of the diseases proscribed by the immigration laws, or were too ill or feeble-minded to earn a living, they would be deported. Sick children ages 12 or older were sent back to Europe alone and children younger than 12 had to be accompanied by a parent for the journey.
Immigrants who passed their medical exams were now ready to take the final test from the "primary line" inspector, with the ship's manifest on a desk in front of him and an interpreter at his side. This process was designed to verify the 29 items of information contained on the manifest. Each inspector had about two minutes to decide whether an immigrant was "clearly and beyond a doubt entitled to land," nearly all of the immigrants received nods of approval and were handed landing cards.

Step Four - Beyond Ellis Island
Those with landing cards in hand moved to the Money Exchange. Here cashiers exchanged gold, silver, and paper money from countries all over Europe to American dollars.
For those traveling beyond New York City, the next stop was the railroad ticket office. There agents collectively sold as many as 25 tickets a minute on the busiest days. When it time for their train's departure, they would be ferried to the train terminals in Jersey City or Hoboken. Immigrants going to New England went on to Manhattan. With admittance cards, railroad or ferry passes, and box lunches in hand, the immigrants' journey to and through Ellis Island was complete. For many it had begun months or even years before.