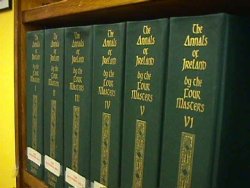 For 1177, An army was led by John De Courcy and the knights into Dalaradia and to Dun da leathghlas; they slew Donnell, the grandson of Cathasach, Lord of Dalaradia. Dun da leathghlas was plundered and destroyed by John and the knights who came in his army. A castle was erected by them there, out of which they defeated the Ulidians twice, and the Kinel-Owen and Oriels once, slew Conor O'Carellan, chief of Clandermot, and Gilla-Macliag O'Donnelly, chief of Feardroma; and Donnell O'Flaherty now Laverty was so wounded by arrows on this occasion, that he died of his wounds in the church of St. Paul at Armagh, after having received the body and blood of Christ, and after extreme unction and penance. Many other chieftains were also slain by them besides these. During the same expedition, John De Courcy proceeded with his forces to Hy-Tuirtre and Firlee; before his arrival, however, Cumee O'Flynn had set Armoy on fire; but they burned Coleraine and many other churches on this incursion.
For 1178, John De Courcy with his foreigners repaired to Machaire Conaille, and committed depredations there. They encamped for a night in Glenree, where Murrough O'Carroll, Lord of Oriel, and Cooley Mac Donslevy, King of Ulidia, made a hostile attack upon them, and drowned and otherwise killed four hundred and fifty of them. One hundred of the Irish, together with O'Hanvy, Lord of Hy-Meith-Macha, fell in the heat of the battle. John De Courcy soon after proceeded to plunder Dalaradia and Hy-Tuirtre; and Cumee O'Flynn, Lord of Hy-Tuirtre and Firlee, gave battle to him and his foreigners, and defeated them with great slaughter, through the miracles of Patrick, Columbkille, and Brendan; and John himself escaped with difficulty, being severely wounded, and fled to Dublin.
For 1189, Armagh was plundered by John De Courcy and the English of Ireland.
For 1197, John De Courcy and the English of Ulidia marched, with an army, to Eas-Creeva, and erected the castle of Kilsanctan, and wasted and desolated the territory of Kienaghta.
For 1197, Flaherty O'Muldory, Lord of Kinel-Connell, Kinel-Owen, and Oriel, defender of Tara, heir presumptive to the sovereignty of all Ireland, died on the thirtieth year of his reign. Eachmarcach O'Doherty (i.e. Gilla Sron-mael) immediately after assumed the chieftainship of Kinel-Connell. A fortnight afterwards John De Courcy, with a numerous army, crossed Toome into Tyrone, thence proceeded to Ardstraw, and afterwards marched round to Derry-Columbkille. The English then plundered Inishowen, and carried off a great number of cows from thence, and then returned.
For 1199, The English of Ulidia made three great incursions into Tyrone, and on the third incursion they pitched their camp at Donaghmore-Moy-Imclare, and sent forth a large body of their troops to destroy and plunder the country. Hugh O'Neill set out to oppose this host; and they came to an engagement, in which the English were slaughtered, and such as escaped from him fled secretly by night, tarrying nowhere until they had passed Toome.
For 1203, An army was led by the son of Hugo de Lacy and a party of the English of Meath into Ulidia; and they banished John de Courcy from thence, after they had defeated him in a battle fought at Dundaleathglas (Downpatrick), in which many had been slain.
Back to John de Courcy