Sunday the 16th September 1951 was a very important day in the history of Aughrim. On that day Mrs. Sean T O'Kelly wife of President O'Kelly came to our village to unveil a plaque erected on the bridge and commissioned by the Dublin-Wicklowmens Association in honour of one of Irelands most patriotic people Anne Devlin.
Anne was born at Cronebeg and was the second child in a family of seven, which suffered immense hardship and pain because of their relationship with rebels Michael Dwyer and Robert Emmet. Anne's father Bryan Devlin was engaged in the building industry at that time (late 1700s, early 1800s). The family originally came from Cronawinna, the ruins of their homestead are still visible there, and one house on the outskirts of Aughrim, occupied by the Harman family is reputed to have been built by the Devlin brothers.
Through her mother Winifred, Anne was a cousin of Michael and Hugh Vesty Byrne. Her uncle Patrick resided for a while at Croneybyrne, Rathdrum. She was a first cousin of Big Arthur Devlin, one of Dwyer's most able lieutenants and a trusted friend of Emmet. All of the Devlin children were born at Cronebeg but later moved to Corballis, Rathdrum. It was at Corballis that Bryan Devlin was arrested on a trumped up charge of involvement in the 1798 rebellion, charges which later proved to be false. However he was imprisoned in Wicklow Goal for two years and nine months.
In 1803 however he repeatedly carted ammunition and weaponry from Emmet's depot in Dublin to the Glen of Immal. It was also stated that Anne Devlin was constantly seen carrying foodstuffs to Michael Dwyer, travelling through Glenmalure and the Black Banks. Emmet employed Anne and her brother Arthur at his house in Butterfield Lane, Rathfarnham. There on the 26th of July 1803 three days after Emmet's rising Anne was arrested by a military party, subjected to dreadful torture and half hanging and was repeatedly stabbed with bayonets in an attempt to get information about the whereabouts of Emmet.
In spite of so much torment and torture Anne refused to tell. Shortly afterwards the entire Devlin family except one of the young daughters was lodged in jail. The youngest son James died while in prison, it was said from neglect. Their father Bryan was detained in Kilmainham Jail for over two and a half years. Mrs Devlin and two of her daughters were released about the end of 1803 but Arthur remained in prison for a further two and a half years.
During this time Dr Trevor and Major Sim treated Anne with an almost incredible cruelty. She spent over three years in various prisons, mostly in solitary confinement, in a damp cell without heat or light. Because of these conditions she suffered from rheumatism and had to use crutches. In 1806 following the death of Prime Minister Pitt a move was made to release all state prisoners from Kilmainham Jail. To prolong Anne's suffering and agony Dr Trevor contrived to have her temporarily transferred to Dublin Castle and so made sure Anne would not be among those set free.
Anne took all this degrading treatment without complaint, loyal to her beloved master to the end. During her time in Dublin Castle Anne's poor health caused alarm to a warder named Mrs Hanlon and she was released after some time. As her health improved she found work as a housekeeper, and later she married a man named Campbell. Her husband died in 1845 and for the last few years of her life she and an invalid daughter were supported by her son.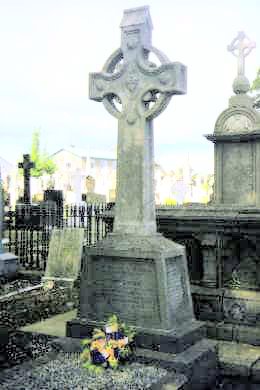 Anne died in extreme poverty on the 18th of September 1851 at the age of seventy years, at 2 Little Ellow Lane, The Coombe, Dublin, she was buried in Glasnevin, near the O Connell circle. Aughrim people everywhere are proud of Anne Devlin and of the gallant part she played in history of our land.





GRAVE OF ANNE DEVLIN, GLASNEVIN CEMETARY-->>