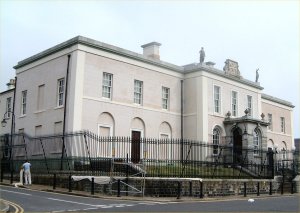 The courthouse was opened in 1737 on a site that may originally have been occupied by "the monastery of the Irish", and which was known to have existed in early Christian times. There is some evidence that the site may have housed an earlier version of the Courthouse. It has been modified extensively since then, most recently in 1990. It was damaged by fire in the 19th century and by explosion in the 20th.
In 1857 a tunnel was built from the cellblock in the basement of the courthouse to the Gaol (now Down High School). The connecting tunnel, over which Mount Crescent was later built, runs for 130 yards and is 7'8" high and 5'7" wide. It is now filled in.
Before 1790 the entrance steps were few and the building stood on what was then called the 'Sessions House Hill'. Subsequently the hill was cut down to fill up a deep hollow between the courthouse and the Cathedral. The excavation made it necessary to provide the present great number of steps.
BACK to County Down