may and jim treanor
VALEDICTION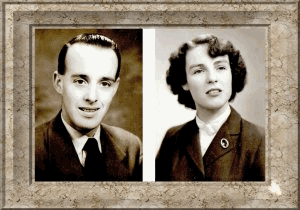 May was the eldest in Eddie and Brigid Devlin's family. She was born on 21 November 1934 in Glasgow. After leaving school at age 14 in 1949 she attended the Tech for a year before taking a job in Nazareth Lodge in Belfast looking after children. Following this she worked in Newry as a nanny to two children. It was during this period that she met Jim. When Jim moved to Preston in 1955 she went there too and they were married on 25 July 1956.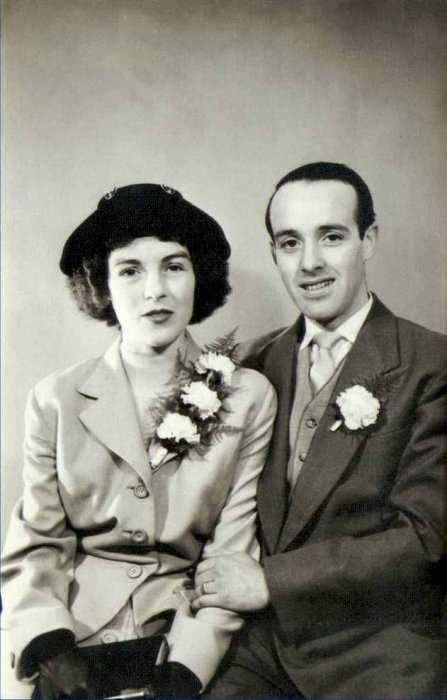 From 1956 to 1986, when he retired, May worked for Bob Greenwood in his catering business, providing services to many large organisations including Great Universal Stores, Greenbank Warehouses, Collisons as well as providing the meals for Preston Borough Council's "Meals on wheels" service. As ill luck would have it, she lost her job on the very day that Jim died. After a brief period with BT, whose corporate culture she found uncongenial, she worked as a waitress in a number of places, finally settling, until she retired in November 1998, in The Villa, a bar/restaurant in the small picturesque village of Wrea Green, just off the road to Blackpool.
Jim, one of a family of nine, was born on 22 September 1930 in Newry, Co Down. He was educated in the Abbey Primary School. He worked for a while for Pearl Assurance in Newry. At that time he was an enthusiastic member of the Newry Bachelor's Club. On moving to Preston he worked in drapery for some years before running a cafe for a while. He was a very active and enthusiastic member of the Knights of St Cobumbanus and in the Knights Club in Preston. He died suddenly of a heart attack on 8 March 1986, having, typically, told no one about the symptoms which he had had for years. It was only later that May learned about his condition from his doctor.
May and Jim's early married life was marred by tragedy. May carried her first child for seven months before she miscarried. Thereafter she had a succession of miscarriages, five in all; two of them were twin foetuses. They were never fated to have children. She loved children and was a very specially loved aunt to her sisters' and brother's children.
May and Jim provided a secure base for her sisters, Kathleen, Alice and Eileen, when they left school and went to England to look for work. Jim's brother Frank stayed with them for a while in the 1970s and my son Pat stayed with them while he studied in Preston Polytechnic in the 1980s. Mother and father closed up in Creggan and went to live permanently with them in 1971. Father died in July 1972 and mother lived on for another twenty five years.
May and Jim were friendly, outgoing people who found it easy to make friends wherever they went. They enjoyed socialising and were active members of a number of social clubs. They both enjoyed a drink but neither to excess.
Mother suffered a number of minor strokes in the early 1990s which progressively affected her memory and ability to function independently. Between 1994 and her death in 1997 she gradually lost her ability to recognise people, even her own children. This was sad for her and for all of us but for May, who looked after her devotedly, it was especially hard. She never looked on mother's care as a burden but often said that she was glad that she was there for her in the same way that mother had been there for us when we were dependent. She arranged for home help, nursing and bathing services to be provided. Eileen and Kathleen both helped as well. May would never consider residential care and it was only when mother lapsed into a coma that she agreed to hospitalisation where she died next day in the presence of her daughters.
May developed a keen interest in golf late in life and was an active member of Ashton Golf Club where she had many friends. When she retired in October 1998 she was looking forward to many happy hours on the course. Unfortunately, fate decreed otherwise and the cancer that took her life was already at work. She bore her pain stoically, never complaining even when the discomfort must have been very bad. She underwent major surgery in March 1999 which did not eliminate the cancer. She fought valiantly through the summer and autumn, determined to make the best of what time was left to her. She came to Ireland in August to the Gathering of the Boyle Clan and enjoyed every minute of it. The winter was hard, with many ups and downs and when she had to go into hospital in March of 2000 she never really felt well again. She was admitted to St Catherine's Hospice on 21 April and died in her sleep, in the presence of her sisters and brother, just before noon on Easter Tuesday 25 April 2000. Her ashes were scattered on the same rose bed at Preston Crematorium as that on which Jim's ashes were scattered.
Images
I have compiled a CD-ROM containing a selection of photographs from May and Jim's Albums. They represent only about ten percent of the complete collection and are based purely on my personal choice. The complete collection is held by Eileen Sutcliffe in Preston. Any member of the family, including the Treanors, who would like a copy of the CD should contact me.
The earliest picture of May was taken in Mobane in the early spring of 1935. However, neither she nor any of us knew of its existence until came to light in March 2001, almost a year after she died, among a number of photographs sent to me from New York by Anna Crocco (nee Roberts), a cousin, daughter of father's sister Mary Alice. Anna, born in June 1921, has no siblings or children, and was keen that the pictures should not be lost or destroyed when she passed away.
The earliest photograph of Jim was taken in 1931. Both of these photographs shown here, as well as in the albums on the CD-ROM.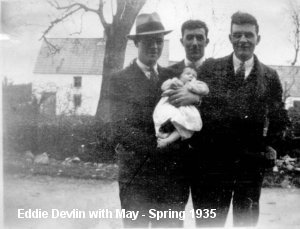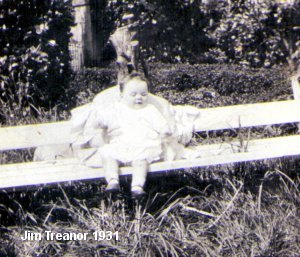 Anna Crocco's photos also contained a number of pictures of our Devlin Grandparents, Owen and Annie Devlin, taken in the mid-1920s and the early 1930s. None of us had seen these before and for the first time saw what they looked like. May would have loved to have seen these pictures but was not to be. There are also photographs of Eddie, our father, and of his cousins Eddie, Annie and Letitia Richardson, Kathleen McGuill and some of his McKenna aunts. I have included a special album of these pictures on the CD-ROM. An annotated file of the pictures can be found at Devlin Grandparents.
Over 100 of their pictures, with captions, can be seen on the John and Mary Boyle site.
PAT DEVLIN
3 May 2001