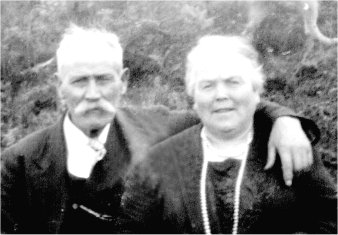 My grandfather, Owen Devlin was born in 1853. Although his precise birthplace is unknown, his father, Patrick, is listed in Griffiths Valuation (1864) as occupying a house (no land) in the townland of Drummuckavall (Druim Mhic Cathmhaoil, which means McConville's ridge, or McCawell's ridge.) The earliest reference to the family name is in the 1766 religious Census of Creggan Parish which records a Samuel Develin in "The Five Towns", that is the (now ten) townlands of the parish in County Louth. In the 1828 Tithe Applotment Books there were two Patt Devlins, in Tullydonnell Nixon (now Tullydonnell O'Callaghan) and Glasdrumanaghy. Griffiths Valuation records Devlins in Cornonagh (Anne), Drummucavall (Patrick and Peter), Glasdrumanaghy (Bridget, Patrick and Peter) and Tullydonnell O'Callaghan (1854) (Owen, not my great grandfather). Owen is thought to have had two brothers, Patrick (who moved away to Dublin) and Peter (who may be the Peter listed in Griffiths in Drummuckavall), and three sisters, Mary (never married), Catherine (Larkin) and Ann (Martin). Later he bought a field from Michael O'Brien in the townland of Moybane (Maige Bhan, the uncultivated plain) and in 1892 built a house on it for his mother. The 1901 Census of Ireland shows Owen and Annie living in the house with their two youngest children - Mary (Mary Alice) and Catherine (Kathleen) and his unmarried sister Mary. He and his father had been poultry dealers. I understand from Gerry McDonnell of Belfast, who was tracing his wife's (Margaret Devlin) connections that he had an uncle, Francis, who was her great-great-grandfather. Owen was married in 1872 to Mary Rox. They had no children. I believe she died about 20 years later. He married again in 1897 to Annie McKenna.
Annie was one of a family of eight girls (seven of whom survived childhood) and one brother James, who died in 1871 just three days old. Her father was Edward McKenna, from the townland of Drumboy (Druim Bui, the yellow ridge) and her mother Mary (Brady) from Keenogue in Co. Monaghan. Many of the families of Cairns, Callan, Casey, Collins, Conlon, Devlin, Donnelly, Duffy, Hearty, Keenan, Kelly, McAlister, Murphy, Quigley, Richardson, Watters in South Armagh, Fitzpatrick and McArdle in Co Monaghan and others such as Adamson, Adler, Barratt, Beckwith, Bryers, Durkan, Hamilton, Hart, Maddock, Martinez, McGuill, Murray, Page, Rowland, Sumner, Sutcliffe and many more - scattered throughout the world share common ancestors in Edward and Mary McKenna, Edward is listed in Griffiths Valuation and the 1901 Census. There are two James McKennas recorded in the 1828 Tithe Applotment Book. It is likely that they are the same person as the McKenna land was in different locations in Drumboy. James was probably Edward's father (his only son, James was probably named after his grandfather). The name finally died out in Drumboy when his widow sold the land and went to live with her daughter, Rose Keenan, in Crossmaglen. It is probable that Ross McKenna recorded in the religious Census of Creggan Parish was also an ancestor, possibly, given the 62 year gap to 1828, James' grandfather. Details can be found in the Family Repository.
One important consequence for the family was that Annie's sister Susan (Conlon) went to New York (probably sponsored by her uncle Peter Brady who was living in Binghampton, New York State), and later arranged for bring over her sister Sarah (1897) and a number of her nieces and nephews - Kathleen McCoy (1923), James (1915) and Julie Richardson (1924), and the Devlin sisters - Mary Alice (1914), Kathleen (1920), Christina (1923) and their brothers Patrick (1920) and Edward (my father) (1923). Unfortunately, Patrick died in 1925 after being assaulted and robbed. (See reference in Edward Devlin for the circumstances). I am indebted for much this information to Kathleen's daughter Teresa Bryers from Philadelphia and Christina's daughter Christina Lavine from Virginia, as well as the detailed information held in the American Family History Information Center in Ellis Island, New York. Detailed information about family emigration is available HERE.
I have no memory of my grandfather or grandmother, as they died within six weeks of each other in the autumn of 1939, and until a cousin in New York sent me this photo in March 2001, I had no idea what they looked like. I am told that he was tall but most his descendants seem to have taken after their grandmother, who was small (as were all her sisters), and are mainly of average height.
Owen had been one of the founders of the Gaelic Athletic Association in south Armagh and had been "goalman" for the first gaelic football team - "The Red Hands" (later the Crossmaglen Rangers) Club when it was first formed in the 1880s.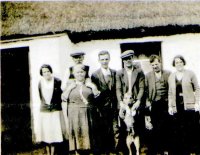 As was not at all unusual in those times of great austerity, my father's siblings dispersed as they left school. As set out earlier, three sisters, Kathleen, Christina and Alice, and brothers Patrick and Eddie, emigrated to the USA before 1924. I had thought that only Alice had ever returned to visit, once, in 1947. Recent correspondence with her daughter, Anna Crocco, reveals that she and her mother were in Ireland in 1929, when Anna was 8 years old. Also, I now know that when my father returned from the USA in 1933 he was accompanied by Christina. Kathleen and her two children, Micheal (Sonny) and Teresa visited in 1938 - from June to September.
Both Anna and Teresa have fond recollections of their visits to Mobane. Anna was accompanied by her mother's cousin, Kathleen (nee Fitzpatrick) and Kathleen's husband Martin Rowland. Her mother joined them two weeks later and they stayed for three months. Since Anna was only 8 years old it was evidently thought that she would object to a long journey without her mother so she was told that she was going to New Jersey, and was surprised to find herself on a ship!. Anna says "My grandparents and uncles couldn't do enough to keep me happy. I still remember the house the way it was set back from the road and the barns up front". She talks about "how grandpa would come from the fields at night and bring me fruit, how the gypsies would come into the yard and beg for something." Teresa says "In 1938, my mother took Sonny and myself to Ireland. We sailed in June of that year on an American ship --we stayed until September and returned on an English ship. Kathleen McCoy journeyed with us. She was wonderful to me and took me with her visiting different relatives but just who they were now I don't remember. We went to Newry and the Dublin Horse Show. We were met at the ship when it docked in Cork by I think Petie and someone who owned a car from Crossmaglen. A name like McGinnis runs through my head but of this I am not sure. We had a wonderful summer and as a matter of fact, Sonny locked himself in the out house on the day we were to leave. He wanted to stay with Uncle Petie and Jerry. Sonny used to work at the Dance Hall on Sunday nights at Richardsons. That was such a great deal of fun. I think one of the cousins Genna (Gen Keenan - later Hearty) loved to dance and always took me with her. It seemed no matter where we were - we were always meeting cousins. ...Grandparents are just the best. I remember Grandmom cooking over the open fireplace-making the bread. They were both so very loving to us."
Teresa and Sonny were lucky to have had such an idyllic summer with their grandparents as both Owen and Annie died just over a year later; Owen on 12 October 1939 and Annie on 20 December 1939.
In her unpublished autobiographical novel Glory Be, about growing up in Crossmaglen in the 1930s, my second cousin Julia Pearce (nee Durkan), a niece of Eddie Richardson (see below) and great-niece of Annie Devlin, describing the events surrounding her First Communion, writes of her visit to her great aunt. ['Kathleen' is Julia and 'Mrs O'Hare' her mother.]
That afternoon Mrs O'Hara walked to Mobane to see all the family. They knocked on all doors and were welcomed and given some money to help them celebrate this great day in their lives. It was a custom of which Kathleen heartily approved. Towards the evening she walked over the hill to see her Great Aunt Annie and Uncle Owen. They lived in a whitewashed cottage with a thatched roof. The large kitchen smelled of turf smoke and fresh home baked bread, which was sitting on the table ready to be eaten with yellow, home made country butter fresh from the churn.
"Aunt Annie, I think you must know me weakness. I think your butter is about the best around these parts".
"What do you think of me buttermilk? That's what I'd like to know"'
Kathleen stumbled over her words,
"Well, I was never one for the buttermilk but me Mammy loves it. She says it's good for the complexion".
"You wee tinker. You don't know what's good for you".
It was all good banter.
Long after they had eaten she was still sitting there enjoying the craic. She sat on an old wooden settlebed, closed now and used to seat three people. When the milking was done and the animals settled for the night, the whole company spilled out on to the road by the front gate. Here, there was a summer seat fashioned from the rocks and covered with soft green turf. It had a natural bower overhead cut and shaped from the thickly growing hedge. Here the old folk sat, re telling old tales and swapping new ones. Some young men came to listen and some to flirt with the young lassies. If someone broke into a song then the neighbours came from over the hills and across the fields to join in. This evening was no exception.
As the sun went down in the West it cast its long shadows over the green fields surrounded by their little stone walls and the bogs where the flowers and shrubs had burst into bloom. Silence reined over the bogs where the mauves and pinks of the bog flowers mingled with the yellow blossom of the whins. The distant lake reflected the translucent blue-green of the sky. The curlew's sad call rose in the still air welcoming the evening star. In a short time the heavens twinkled and the velvet cloak of night lay over a slumbering Mobane.
[Reproduced with Julia's permission]
When Alice came in 1947 she brought me a bright blue Hopalong Cassidy cowboy outfit. Following the austere and drab war years, this was something special and I peacocked it about the place until it fell apart. I still have the belt with its silver buckle and tip with its embossed bucking bronco; it's distinctly shabby now and it's been a long time since it would fit round my waist.
The families of the McKenna sisters were very close. The families were mostly quite large and the cousins were a close knit group. A favourite meeting place was the crossroads about 100 yards from Devlin's, beside Richardson's. The gathering was around a large stone at Loye's house. The stone has never been moved and can still be seen. Eddie Richardson built a dance hall that was a popular meeting spot before and during the war. The hall is still there but in dis-repair. After the dances the cousins would adjourn to the Devlins for food and talk.
Although my grandparents Devlin were dead, there were still three uncles and an aunt living in the home place. Gerry, was a bricklayer who could turn his hand to any job in the construction trade. In my early teens I helped him on the refurbishment of Petey's mother in law's house and I can testify to his energy and stamina for he wore me down carrying bricks, plaster and buckets of cement to his high speed, non stop industry. He was a slim, handsome man and always swore that he would never be "hooked". However, he was hooked and went on to give us nine cousins, all girls (see above). Although he loved them all dearly, he ever bemoaned his failure to produce a "wee brickie". You can't say he didn't give it his best shot.
Before he married Veronica he was a frequent visitor to our house in Drumbally. He had a good voice as I recall and his favourite song was "The Wreck of the Number 9" about a train crash and the death of its "bold engineer".
My aunt Sadie looked after the house and the boys. She was a handsome woman with a husky voice and a ready laugh. Eugene was a simple soul who never grew up. All his life he believed in Santa Claus and thought that twelve pence were worth more than a shilling. The youngest, Peter (Petey) worked the land. He was small but very wiry and strong. I liked him and enjoyed my visits there to my cousins.
Just over the road, on the crossroads, was a shop and dance hall, owned by Eddie Richardson. The Richardsons and Devlins were cousins - Eddie's mother, Catherine and Annie Devlin were sisters. Eddie had been a prize-winning cyclist all over Ireland for many years in the early 1920s, often competing in several events many miles apart on successive days by cycling between them and was the All Ireland Cycling Champion in 1926. He became a Nationalist MP in the Northern Ireland Parliament. During the short period when, before its eclipse by the new SDLP, the Nationalist Party under Eddie McAteer formed the official opposition to the Unionist Government in the mid 1960s, he had been appointed the shadow Minister of Sport. He was very proud of this position. He was a tall, burly, barrel chested, bluff character. Eddie was a decent man who did his best to represent this nationalist corner of Northern Ireland, but without much hope of being able to make a difference to Government policies in respect of the area's problems.
Links:
Collection of photos from 1920 - 40s
The McKenna Connection - photos from the early 20 century.
The American Connection - early photos Devlins who emigrated to America and their families.
History of Crossmaglen Rangers