15th to 27 April - Sable to Niort
The Road to Durtal
The river Sarthe was the first of the fine broad rivers I was to cross in the next few days, flowing full and fairly fast as I crossed over it on the road to Durtal, where I had intended to stay the night, the day had improved and I set out in high spirits, I was only going to walk about 22 k today, no pressure, take it easy, have a good look at your surroundings. Strangely the lovely primroses which I had encountered earlier on my travels, both the ones with which I am familiar at home and the bell variety, which had been in such profusion are no longer to be found, and I kept looking out for bluebells. I never found any and still I haven't. Are they not native to here I think? I think of travelling from Newry to Warrenpoint and even from the car you eye catches that splendid carpet of colour over in the forest.
Trees and bushes are a lot more advanced; people have planted the bedding plants, alysium, lobellia etc. which we might hold back until the start of June, obviously there will be no late frost here.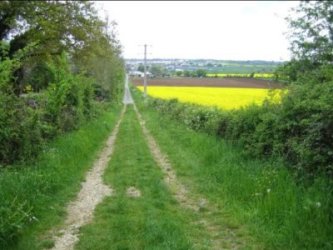 The weather however is very changeable, with big shifts in temperature from one day to the next or even morning to evening. I seldom have my jacket off, and I have had my share of rain. I notice an appreciable difference in the height of the rape, which seems to be a favoured crop right along my route to date, it now stand almost 1.5 m high.
Rape is a new crop to me so I have no way of comparing it to home.
I pass through a small village, Precigne, not a soul about, shuttered and closed, however there was a bus shelter where I could take off my pack, loose the laces and ease off the boots, a slug of water, oh feck it anyway it's nearly too early to be stopping for my, un verre du vin rouge s'il vous plait, et de l'eau et un sandwich. My midday snack. Have to do with emergency rations, a few chocolate biscuits, a few sweets and a drink of water sucked from the bottle whack I carry in the top pocket of my rucksack. A platypus I think it's called. A strange and wonderful creature.
Head out again, Durtal isn't that far, perhaps another 12-13k, almost 8 miles. I play my music and march on. Try walking some time to, say, De Dannan playing 'The arrival of the Queen of Sheba in Galway' or the later part of Frankie Gavin's arrangement of 'Hey Jude'.
Get two walking canes, right and left hand, lift reach push, lift reach push, left hand in unison with right foot, right hand obviously opposite. Like me you'll probably cut a funny figure, short rapid steps, arms and legs going, but the music lifts and stirs and you make good headway. You can give up whenever it comes to a bodhran solo at the end of 'Hey Jude'!
At last Durtal is in sight, the steeple of the Church, always "Centre Ville" as far as I can see, however not usually open.
There was a fine Church quite close to my last stop in Sable, I thought I'd go to Mass, round to the Church on 3 separate occasions. There had been a sign on the door, "Exposition", perhaps not spelt that way, not an exhibition. I took it that the Blessed Sacrament would be exposed, for a few hours. My last visit I made on the Sunday morning, I heard a chapel bell, as I thought for 8.00 mass, I hurried round, I would have breakfast after mass.
Incidentally, the Hotel where I was staying would not be open on Sunday, BUT I COULD GET BREAKFAST BEFORE I LEFT!
I reread the notice; the exposition of the Blessed Sacrament had been for earlier in the week. Durtal looked very quiet; the hotel when I found it was on the other extreme of town, on the banks of a fine broad river, The Loire. Great I thought I'll get a good start in the morning; I could already feel the warm water creeping up my body as I snuggled into a warm bath.
The door was open, no cars in the car park, I rang the bell at reception; a lady appeared, looking a little startled - "Ferme, non posible". My enquiries as to any other possibility drew a blank; I'd have to head on.
The town actually looked quite touristic, but absolutely shut, ferme. No place at the Inn here. So on I went, another 18 or19k to go, a little shorter than the journey I have already made, I reckoned at that time that I had covered circa 23+ km from my last hotel.
However I am not alone, Gerry and Christine McAlinden are at Christine's parents home in Rennes, I'll call them, let them know of my predicament and see if they can find me accommodation on route.
Text sent, almost immediately a reply - "We're working on it".
There is a garage at a fork in the road, I go in to enquire, very helpful but the only place they could suggest was back into Durtal and on the road to La Fleche, about 3k out, there was a Chambre d'Hote. I bought some more biscuits and some mints, thanked them and travelled on towards Bauge.
A sign, Chambre d'Hote on my right hand side, no distance given, but I must try it. I immediately text to Gerry and Christine, tell them to hold everything, I'll be back to them. I walked for what seemed like an age, probably 8 or 9 minutes, a sign "Chambre d'Hote 500m".
It was an Irish measurement, or worse still a Crossmaglen one!
Many years ago H&P. had employed, and were glad to get them, brickies from Crossmaglen. The same boys put me into a heap of trouble one 12th of July in Dromore Co. Down, where they had stayed in digs while working on 184 Houses at Maypole Park.
Anyway they had built a footing of blockwork, faced with facing brick, which wasn't well built.
When tackled and before the brickwork was kicked down to be rebuilt, they admitted that - 'There might be a wee inch in it'.
So to with whoever set the 500m sign, there was a wee inch in it to!
A beautiful place, stone built, immaculately kept, but firmly shut. All the shutters, on doors and windows, an electric bell push as well as a good sized bronze bell. Firmly rung but knowing it was a lost cause.
Back to Gerry and Christine. they were still trying, - if all else fails book me into Bauge. Ask them to keep something for me, even cold, I'll never make it before 8.30.
Bauge [ 17th ] it is, can't find anything en route, rural France closes down on a Sunday! They are keeping the dining room open for until 9.00, bon courage!
As I get into Bauge I don't think even if Frankie Gavin was walking beside me playing, or Mairtin O'Connor, or even Ben Sands, and him playing on mandolin, a great favourite of mine 'The Japanese Hornpipe' could I have upped my pace.
The lady of the house spies me coming up the street and rushes out to greet me, "Quelle courage, Monsieur. Bienvenue, bienvenue".
I am ushered in, it is almost 8.30. I go up to the room, deposit mes affaires, and return to the now vacant dining room, I am the only customer. I order, water and wine, in that order, I am thirsty. I can have anything on the menu! I am not really that hungry, but order I do and had a wonderful meal, up to bed after a digestive Grand Marnier. I don't need rocking.
Bauge to Langue
I sleep late the next morning, well until 9.00, down for breakfast, we'd hardly call it breakfast, but it is as much as I would take if I was at home on my own, juice, coffee, and French cuisine bread with butter and jam. The same smiling lady is there to greet and fuss over me, great to be treated like royalty; I wonder what Gerry and Christine have said about me. Have they told her I'm a widower I wonder, but no, there's himself in the corner, no "French Blonde" here!
I enjoy and take my time over breakfast, I'll head out for Saumur shortly, but I have no intention of going the full way.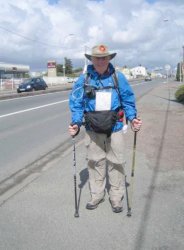 There's a place on the map, looks sizable, Langue, surely they'll have a hotel, that'll do me today, about 18-19k, 4 hours walking, that's more than enough for today: I could do with a rest.
I remember my meeting with Bert Slader. Now there's a man.
Maureen and Liam O'Hagan had asked me up to dinner. Great, Maureen's a great cook and Liam has a great cellar. It's funny, but I can still remember the taste of a soup which Maureen had given to a huge crowd of us at a house party, it was vegetable, very hot but cooled with a liberal helping of cream.
My mother made great soup, out of a bottomless pot, nothing was ever wasted, after 12.00 mass in the Dominican, Alice and I always called with the children; we had to have the soup.
'What's in it…?'
It could be anything, what ever was over from yesterday's dinner you could be sure, but it was always fulsome and appetizing and put a great lining on the stomach. So to with Maureen's cooking, not to be passed up.
I have to say my friends, I should say, Alice's and my friends, have been most considerate of me and I really appreciate the efforts they have made to try and ease my loss.
Anyway, here I am with Liam and Maureen, talking about my intended trip.
"I have a book you should read, Bert Slader's 'A Pilgrims Footsteps'"
Away he goes and finds it. I take it home, and start reading, here's a man who can write gripping from the first sentence. Reluctantly I leave it down, can't read it all in the one night, particularly after such a feed and liberal glasses of wine!
Out the next morning with that stalwart band of men, (Who incidentally are seeking a Nora Batty, must have the right stockings and ankles to go with them!), 'The Last of the Summer Wine', out for our walk in the Mournes, organised by Benny, and led by that intrepid explorer, the Mighty Patsy Quinn. Who always disclaims that he is not the leader, but we all agree that he is, whether he likes or not.
Strolling along, with my school chum, 'Here, there's someone you've got to meet' A man that Patsy has the greatest admiration for, a man who was the father of mountaineering in Northern Ireland, who during his time with the Education and Library boards had done so much to set up the outbound schools which have given so many young people the challenge and adventure of something different from their terraced existence of town or city life, in a home where the father perhaps had never worked.
Patsy says, 'You should meet this man' and so I did. And what a joy, we spent, that is Patsy, Bert and I, a wondrous afternoon in his home in Newcastle, Co Down.
I had prepared in my own mind the questions I wanted to ask this man, but what a raconteur, he went up so many avenues, would be telling you something, a thought would strike him, into another anecdote, back again to the original theme, stories, incidents, recollections, all told with such a twinkle in the eye, and with such firm conviction, no wonder the man is such a successful author. He has several books to his name now.
Anyway he has walked the Camino many, many times. He led a charity walk for Multiple Scheloris for many years, and indirectly he is responsible for my Camino. My dear friend Eilis, has walked the Camino with him, its through her that I first got the idea, and Liam, she tells me that Bert Slader's book which you loaned to me is her book! Do you not think it's time you returned it?
Bert had warned me that there are two kinds of tiredness, one that you feel at the end of a days walking, no problem there, but you must watch out for the serious kind, where your body is using up energy which it cannot replace with a nights sleep and then it shouts 'Whoa1', and you could be in serious trouble. Make sure you take rest days; you may think you don't need them but; "Be disciplined, treat your body with respect and don't expect it to keep pace with your expectations'
I am conscious of Bert's warning and I resolve that I will not overdo it, Langue will do me today. Saumur on the morrow, and if I like the look of the town I will take a rest day.
I arrive in Langue perhaps about 2.30, (not even a pub open!), emergency rations again to-day! Worse still it's another 15k at least to Saumur!
Not another of those marathons, nothing else for it keep going, get that Carbon Rio MP3 into action, maybe a bit of Altan will lift the step and spirit. There's no Mother Hubbert's here for truckers or for walkers.
Whenever you look at the map Langue looks a reasonable size, it's just after a junction where the N147, from Angers, joins the minor road coming from Bauge. A place you would expect to have a hotel etc., but closed it was.
Something else I have noted, there are no isolated pubs-come-shop-come undertakers here at crossroads. People living in the country must travel into village or town for their groceries, or to visit the pub. They probably don't visit the pub, a different culture entirely.
What a relief some 6 or 7k later, I reach a small village, Vivy, probably not even marked on the road map and here is a beautiful Logis Hotel. I think one of the nicest rooms I have stayed in since I arrived in France. I was tempted to take my rest day there but it is very small, tomorrows journey into Saumur would be short, and I had heard that Saumur is a beautiful place, which indeed it is.
Saumur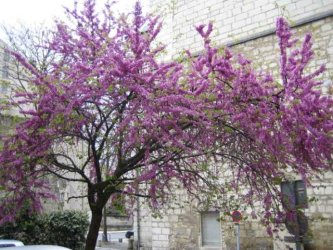 The next morning I go on to Saumur, a journey of no more than 9k. I can take my time; I see the town before me and then a magnificent river and bridge. I stand on the bridge and view the river up and down, running full and brown with silt but on the side from I approach there is a bit of slack water, divided in the middle by a small island, the water moves a lot slower here and I watch for moving fish. I see the tell tale swirl of water, it is probably a shoal of roach or bream, it definitely not trout.
I walk on again towards Centre Ville, and then the real surprise, I have been walking on an island, and here once again is an even bigger river and an even grander bridge. I stand thrilled and amazed by the sight.
No wonder the Loire is called the Royal River, it richly deserves the name. Here the water is racing, very discoloured, and with lots of debris, broken branches and the like. The weather upstream must have been even worse than anything I had experienced.
This could not be the same river I had crossed at Durtal, which lay almost due north of where I now am. I think there is an 'e' of a difference; I think the river at Durtal is spelt Loir, whereas this river is spelt Loire. I think I took a photo at Durtal I'll have to check.
I book into a small but comfortable hotel and get room from where I can watch the river rushing by. I'll take two nights here and recharge the batteries, but some sight seeing first, arrange to have cd's taken off my camera card and have one sent home, keeping a spare until I know it has safely arrived.
Again I am delighted with the sights of the town, in and out of Chapels where I marvel at the paintings, wooden carvings of the Stations of the Cross, the statutery, the pulpits and organ lofts, so wonderfully carved.
I think of my friend in Dublin, Harry Spain, a most interesting man, retired from the Ministry of Agriculture, he was an Undersecretary I think, now in his eighties, but I hope still playing golf most mornings. He did when I last met him but that was before Alice's death, I hope he keeps well.
Whenever Harry retired he took up woodworking, and did some beautiful reproduction work of card tables, inlaid and with secret buttons and the like which you had to press to open the table top out to its full size. He made a full dining room suite consisting of two magnificent carvers, and either 6 or 8 chairs. He had carved all the ornate work on them himself. Whenever he went to do a project, he would collate all the information he could on it, visiting museums in London, where apparently some of the finest furniture is stored. He would try to copy to the minutest detail, whatever varnish or method of French polishing had been in use whenever the original article was made.
He also makes violins; I am delighted to say I purchased one of them. Grandson Jack has the loan of it for now, I hope he sticks at the music, it is a wonderful thing to be able to play and also having played, you have a greater appreciation of music.
I wander about the streets of Saumur in gentle sunshine, watch the river and have a good rest. I'll head out for Thouars on the Thursday morning
Heading for Thouars [ 21st April ]
I get on the road early, 9.15 or there abouts, I am well rested, even though I did quite a bit of walking around Saumur, there is vigour in my step. Today will be a longish journey 34-35k, perhaps a little over 21 miles. I had picked up an excellent map in my hotel room in Vivy, one showing the Logis Hotels throughout France, I had cut out that portion which would be along my route, and at reception that morning I had asked them to book me into the Logis at Thouars.
The weather is fair, not all that warm but I take off my jacket and walk, not in short sleeves, since I am wearing a sports type vest, which has long sleeves, one which, if you believe the literature, wicks the sweat away from your body, keeping you nice and dry and of course, comfortable.
No sweat this morning anyhow, it's quite fresh but pleasant. I make good progress, although I am on a fairly major road, I have no difficulty with traffic, except that is, that I hold on tight to my hat whenever a big lorry passes, there's no way I want to lose this hat.
I had purchased it in Australia, not on my last visit but the one before. I had gone out to Perth to visit my friends Kevin and Maureen, "Beauty" as he was and still is known by all his friends in Newry. A good and true friend.
Initially Alice didn't like him. Simply because I returned to England with him.
I came home from England on one occasion, and I wasn't to long home whenever my father came into the house in Patrick Street - we had moved in from Camlough a few years before, and threw me over the keys of a wee Ford Lorry.
'It's in Jimmy Treanor's yard' says he, 'Go on the country selling fruit, vegetables and the odd box of herrings' - mind you this was before I had met Alice- 'And you can wholesale fruit to the country shops'. Which is what I did.
I had driven my dads Opel car, doesn't that sound grand!
Me dad's Opel car.
The Opel car was nearly as old as me dad, we also had a small lorry one time. The back seat could be taken out of the car and it would be loaded with cabbages, turnips, rhubarb, whatever was in season. John and I would be called at daybreak to travel to Mullaghbawn, where I think it was Peter Murphy, not the Roger Murphy's now. Pete (Roger) Murphy lived quite close to the Chapel in Mullaghbawn, a lovely man, great friend to my parents and Uncle Peter.
This Murphy lived above the Chapel turn over to the right on the road heading for Carrive. Pete lived on that road. He had the best spuds, the best cabbage, turnips, rhubarb, you name it as far as Da was concerned there was none better in the country and his customers deserved only the best.
So here we'd be, still having to get back to Camlough to get ready to go to school, pulling heads of cabbage, or snedding turnips, a wet field, wet cabbage, muck sticking to boots, clothes soaking, counting out the dozen and throwing the 13th one out in heap to keep the count. These vegetables then would be packed into the back of the grand Opel car and we'd head for home.
I could drive this car down the full length of the loanen, put her in reverse and speed back up again. The loanen was probably a little over 150 yards. That together with a driving lesson which Frank Spence had given me in McDonald's lorry once coming in from Whitecross was the extent of my driving skills and lessons. Nonetheless I got into the wee Ford, reversed her out of Treanor's yard and never looked back since.
The lorry of course had been bought on HP. My father would have scraped up the deposit, but I would have to pay for it. So my career as a' herring man' commenced and I was on the country.
Into Bessbrook, Camlough, on up to Lislea, into Aughanduff, up the crooked road of Annaghcloughmullion, and into Mullaghbawn, call at Happy Day - these roads are not in any order they are simply being put down as I recall them.
Over to Silverbridge, into Ballsmill, into Crossmaglen, into the Cumiskey's, both to Jack and the father's and brothers places, two shops quite close together Into Creggan, called with lovely family there, "Protestant people", I just can't recall the name; they were good customers in the shop too.
You know Creggan and Poyntzpass were away ahead of their time when it came to education, there was one school that everyone attended. Not like in Colm Sand's song 'The March Ditch' - 'I worked beside the March Ditch when I was 9 or 10, like the neighbours children home from school again. Well if school days separated us because of different creeds, our orders now were all the same, it's time to pull the weeds." And isn't it time that all our children attend the same school.
Several years ago whenever Alice and I were going over to Liverpool to attend Nuala and Georges wedding, we called at a Convent in Wales, coming in on the A5 from Holyhead, Hollywell was the location, we were calling hoping to see a really good friend of Alice's and I like to think of mine also, a Sister Dympha Gilmartin.
Alice had been with her a number of time in Lourdes, and they were firm friends. Dymphna wasn't there but we were made welcome, elderly nuns who fussed over you, getting the tea, made for craic.
We told them where we were going, our daughter was getting married, the boy was Presbyterian, his father Ministered in that religion, we were probably a bit apprehensive, we didn't know what to expect. No more than did Winnie and George I'm sure, I am really pleased that we have made such good friends with both Winnie and George, they are lovely, sincere couple and I am delighted that we share the same Grandchildren. You sort of think elderly people; particularly clergy would be dyed in the wool Catholics, not one bit of it. The nun to whom we were talking was of the firm opinion that children should be educated together. She said, 'Here we are giving children what we think is a Catholic education, and as soon as they leave here who do they meet. Not Catholics anyhow'
"Give all", she said, "a Christian education, let them live together, there should be no division" We went on our way reassured.
This whole thing started out talking about Opel cars and wee Ford Lorries!
Or I might go by Killeavey, Meigh, Jonesborough, Dromintee, Forkhill, up into Carrickasticken. Call with the O'Neill's, Kate Callaghan, Mary and Gene Jordan. Kate was my father's aunt. John Callaghan, I think born in Ballinran, Co. Down, emigrated with the family as a child to Liverpool, married Kate and ended his days in Carrickasticken.
The best call in Carrickasticken was to Joe McCreesh and his wife. Shop right on the border, sold goods North and South. Whatever was scarce up or down you could get it off Mrs McCreesh.
No matter how much tea I would have got anywhere and I got plenty, I always had more at McCreesh's.
Such a house for the craic, you always looked forward to going and had to eventually drag yourself away.
My father often accompanied me on these outings; he'd have done nearly anything to get out of the shop!
If we were near Forkhill at all, we'd have to call with Babs and Kate Larkin for a bottle of stout.
My father had spent holidays in Carrickasticken as a youth, before he met Mammy, and yet she was a little more than 3 mile over the road in Tullydonnell. They met in Liverpool when Mammy trained as a nurse and midwife in Walton Hospital, where years later our Anne did her training also.
It was in Forkhill that I met the 3 Yanks; here I am selling my herrings;
"Herrings alive with their eyes open 2 and 6 a dozen, Best value in town, down to Ardglass meself this morning. Aye that's right missus, met the boats coming in. Fresh? Fresh! Here take a look at that, if they were any fresher they wouldn't stay in the box."
Out with the woman of the house, 3 visions, all about me own age, new blood, never saw these ones before, could do a bit of good here. pour on the patter and charm,
"Oh Americans, are yees enjoying the holiday, any dances, good dance th'night in Jonesborough, will you be going? Great, keep me a dance".
Yo ye boy ye, up for your ball, get your speak in early.
"There you are Missus, there's a mackrel for you as well, and here take these couple, there a bit small."
Oh the big fella, making a show!
The Clippertones were playing in Jonesborough that night, for some reason I never got, but two days later, Sunday morning, coming out of the Dominican, 12.00 mass, here's these 3 beautes, coming down the steps, who are they talking to? Who else, Juicy, our fella, I sidle over.
John says this is our Brian, now you know Yanks can be loud, and there is nothing demeaning in being a 'Herring Man', it is a noble profession, but you just don't want it shouted all over Dominic Street on a Sunday morning.
"Your Brian's our Herring Man!!"
I made no headway with them Yanks, never even got one dance with any of them.
I had the lorry, I was on the country, I bought a load of bananas, I hadn't paid for them, it was winter, frost on the ground, my dad borrowed the lorry to go up with mum to Tullydonnell, coming back through Forkhill and on down by Cloughogue school he hit a sheet of ice on the road, lorry cowps over, fortunately no is seriously hurt, my mother has to be taken out the drivers door, the lorry is on its side, me good bananas are scattered over the road, of course as soon as frost touches them they are done. The lorry is a write-off.
So here I am now, no lorry but payments still to be made, no bananas and they still have to be paid for. I was owed a bit of money on the country; I might be able to get that. I had started going with Alice at this time now, it was getting serious, we had deep feelings for each other, and this time I was in love!
The Boys were home from England for Christmas, Kevin among them. I was in trouble, needed help; I didn't have to look too far.
'Come back with me, I'll stake you till you get fixed up with work, you can stay in my digs on the Bronston Road, in Burton on Trent'. And that's what I did.
Alice wasn't one bit pleased - 'That oul Beauty fellow, taking away my Brian'.
So off I went back to England, back scaffolding at Rudgely Power Station, Kevin worked there as well, and it was there that he met and fell in a big, big way for a beauty.
Oh, she was a smasher, and I enjoyed watching Kevin doing all he could to get off his mark. We had a saying then - 'Like a Marine' - working hard against the odds. Kevin definitely was a marine that time. But thank God he won through and they now have a lovely family in Perth, Australia.
Kevin and Maureen stayed with me in Rostrevor a short time ago. I was delighted to have their company and Alice became firm friends with both Kevin and Maureen, despite '…that skitter taking you away'
We had a few holidays together and Alice and I went out to Kevin and Maureen's son Shaun's wedding in Perth around 81 or 82
Kevin hadn't been to well for a while it was great to have him over home, and I know his family were delighted.
About 10k out of Thouars I came on a grassy Island in the road, there was a memorial on it. I crossed, took some photos and recorded what the memorial said; the lettering was a bit unclear and might not come out to well on the photo. It recorded "11 Aviateurs, Anglais Canadiens and Neo-Zealandais qui tomberent au Champ d'Honneur en Fevrier 1943 et don't les Corps reposent au Cimetiere de Saumur. Le Souvenir Francais. A Faite eriger cette stele."
Interesting and moving. Allies, young men no doubt, 'Where have all the young men gone, long time passing, repeat long time ago, Gone to graveyards every one, (I just can't get the line) when will we ever learn, when will we ever learn' Bob Dylan.
Indeed when will we ever learn! It's happening still today, and Africa the object of my Camino, suffers perhaps most of all, but it is not news it is not the Western world, our attention is focused on America and Iraq. Before that on Bosina and Herzegovina, nearer home, no less harrowing but grabbing the head lines. Famine, Aids and War in Africa is not a nice subject for our Western eyes. Thouars is in sight, I'm glad I'm assured of a bed and a hot bath. I eat late and sleep well
Last night in Niort & Catching up
To-night is my last night in Niort; it is Wed. 27th of April, over one calendar month since I left home in Rostrevor. I have stayed here now for three nights, the first night in an hotel further up the street, not nearly as nice as here, probably half the price, but what the hell; as my father always said, "To hell with poverty, we'll put on another herring" and we always did!
I have to skip through a couple of very interesting days, but I am determined that when I leave here in the morning my musings will be up to date. I could not keep up this pace and write as well.
From Thouars I headed for Airvalt, through beautiful countryside, if the main road was a bleak landscape devoid of hedges or ditches, this was enchanting country side. Place here for birds, bees and mammals. Loads of hedgerows coming into full growth. Bird song greeting me as I strode along, perhaps that's a bit of a euphemism - I have a nagging pain, worse than a pain, in the small toe of my right foot, I begin to limp despite my best efforts to avoid it, despite the music which I now constantly play to usher me along, and cheer me up. This pain gets to me; however I reach Airvalt, a sprawling place without a centre. I find the Logis hotel into which I have booked and gratefully sink into a hot bath.
I am for Parthenay the following day, feeling good and refreshed, the pain eased in the toe, I set out. Again through very pleasant countryside, and I allow it to lull my pain and make my way, taking numerous photographs on the way, I haven't that far to go so I'll take my time; I'm already booked into accommodation.
I have zig-zagged, the direct route was much too far for one days journey, there was no accommodation that I could find on the direct route, hence my diversion to Airvalt. I'm glad I did, it is a beautiful place well worth the effort to get there. Perhaps off the tourist route but delightful nevertheless.
So I arrive in Parthenay [ 23rd April ], almost directly opposite Poitiers on the map, I am perhaps ahead of schedule, I am a lot further west than my planned route, and perhaps as much as two days ahead of my programme. Could I be so far ahead I wonder?
I know I have walked long and hard on several days, but two days ahead I wonder. I altered my route for two reasons;
Walking very secondary roads is a bore, the roads are invariably convex, one leg is higher than the other, unless you were to walk in the middle of the road, not a brilliant place to be, there is only room, perhaps a little more for one car, if you are unfortunate enough to meet one at the same time as one is passing it can be hairy.
I much prefer the more major roads, which have a verge, rutted though it may be, on to which you can dodge when large vehicles approach. I have the utmost respect for the drivers of large lorries, they are in the main most courteous and indicate to pull out when passing the likes of myself a pedestrian. It is the drivers of fast cars who overtake from behind which give me most concern, and several shocks.
Airvalt to Parthenay was then a fairly pleasant walk. I do a great injustice to these locations, they were beautiful l places worthy of more than a cursory glance or look, but, I must get on.
Parthenay to Niort then was much further than I wanted to tackle in one day, so I decide to again zig-zag and take in St. Maixent l'Ecole, and am I not glad that I did so.
I am afraid that I missed so much of St. Maixent L'Ecole, it is, from the little I saw a wondrous town, but I travelled through its ancient streets in search of my hotel for the night, thinking I'll return on the morrow and view this town.
Not to be, my hotel was magnificent, but was perhaps, 1.5k out from the town centre - when your feet are sore the kilometres fairly increase. It was out in an area called St. Martin, and from there I could approach Niort along a meandering river. Which is exactly what I did the following day.
However, today's today and I'll make the most of what's left of it. I have my hot bath, letting out water so that I can get warmer water in, lying back, and letting the warm water flood over me, washing the pains and tribulations of the day wash away. I soak for a long, long time, wrap a towel round me and stretch out on the bed; the dining room's last orders are at 9.00.
At circa 8.30 I go down the winding steps, this is a chateau, turned into an hotel, run by a beautiful couple, perhaps in their early to mid forties, the man of the house has travelled the world in top class hotels, both speak reasonable English, he particularly so, I would say fluently, at home in either English or French, and for all I know several other languages as well.
Aren't we very lazy about other people's language, but the children here are marvellous they all speak French fluently!
That evening I have probably the most expensive meal of my life, and it was worth every penny of it. I was only paying for one, here I am suffering on my Camino, doing a pilgrims penance, suffering hardship and heartache on a relentless journey to the tomb of St. James, whose remains were suddenly rediscovered after almost 1,000 years, in a starry field in North West of Spain, which at the time had been over run by Moors. Why shouldn't I enjoy it, and I did, without regret or favour.
From the foregoing you might get the impression that I am sceptical about St. James, but not so.
To me it is like Lourdes, you can be sceptical as much as you like, but whenever you experience the joy, the compassion, the felling of love that pervades that place, you realise that there is a superior being at work and if we allow ourselves the liberty of belief you too can be part of it.
Talking of Lourdes I must recall Alice's great love for Our Lady and for Lourdes, she did several stages there and she carried Bernadette in her womb whenever she visited it with my Aunt Mamie. It holds many dear memories for me, and one very sad one.
I was in Lourdes when I learned of the death of a very dear friend of both Alice and I. Hughie Gorman will no doubt recall this, I had heard in the morning that Marie had died, it was not unexpected, we had been waiting on her to be called, perhaps even wishing her to go, she simply faded away.
But even so it was hard, and we couldn't be there to put our arms around Gerry and their children, I wandered off on my own, I can't say where and I cried bitter tears, not for Marie perhaps but for Gerry and his children. But that's the way I am, I let it out, and once gone I have to get up and go again. A good way I think. Anyway God love him Hughie found me, and did his best to console me; I remember and thank him for it.
So be it with St. James and the Camino.
I can believe in fairies, magical things have happened in my life and please God will continue to do so.
So why not St. James?
If he can get so many people, like myself, to go on a journey of discovery, perhaps of their own lives, perhaps rediscovering that which they have nearly lost, why couldn't his tomb be suddenly discovered or re-found after 900 odd years by a monk in North West Spain, at a time that Spain so desperately needed a focus, a champion who could resist the marauding Moors?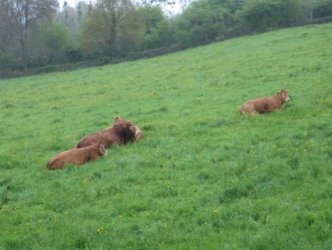 I enjoy my Sancerre wine and let myself be thoroughly spoiled by my hosts for the evening.
The following day I meander, as does the river, towards Niort. Pleasant countryside, a direct contrast to that along the main route from Parthenay. I marvel at how a few miles can make such a difference. I take several photographs of animals in the fields and one which no doubt will raise a few eyebrows, a field so full of dandelions I wonder if they are actually a crop, and perhaps they are.
Along the Piste Cyclable I had seen three different men, vast distances between them mind you and I think they were harvesting dandelions; at least that's what it looked like. They each had some form of basket, rubber gloves and what appeared to be a small fork. They each searched along the banks and although I walked within 10 ft. of them they never took me under their notice. They were at the time perhaps the first and only person I saw on that day during my walk!
But, no eye contact, no curious stare, no reaction. However I must say I find the French most agreeable. Whenever I go into a pub, and every day when I'm walking, if I can find one I'm in it, they are very friendly. My French is lousy, they still can't understand my, "Une verre de vin rouge et de l'eau, s'il vous plait, et une Sandwich." A council of the elders has to be held at the bar to establish what's required.
"English?"
"Non, Irelande… Camino to Santiago."
Ah St. James or however they call it. Handshakes perhaps and calls of "Bon Journey, Bon Courage," as I pick up my rucksack making ready to leave.
I find the lack of greeting, lack of eye contact, when in the country hard to understand. But now I have simply taken to calling to everyone I pass, "Bonjour Monsieur, or Madam", whichever is appropriate. Let them answer or not I keep going on.
I have a pleasant journey to Niort along a winding river, but the journey into town itself is boring and seems endless. I book into the first Hotel I see, that is as I approach the town centre. My right foot and small toe is paining me, I need to get these boots off. It was not a great choice, the man however who took the booking, for the night, couldn't have been more helpful and had quite good English. They could only keep me for one night, he rang round and eventually booked me into an hotel which I realised was at least 1.5k back on my days journey I hadn't the heart to tell him it was not for me, 1.5k further on on my journey fine but no way was I going to back track 1.5k in the morning.
I'd look around myself in the morning. No restaurant, breakfast in the morning no problem but no dining at night, out I'd have to go. And I did found a fine restaurant not very far distant and had a good meal.
Following morning I left my kit at reception and went out to view Niort in daylight. Not very far up the street I walked into the hotel where I still am until the morning. Probably a lot more expensive, Pat again and that herring!
What the hell, it's only money. I have decided to stay another two nights, two days rest, the right foot needs time to heal, if heal it will. A lovely girl at reception, exceptional English, I enquire about her name, Chantel! She probably thinks I'm mad, I immediately burst out laughing, could this be the Chantel of Hi-Ace fame, I had never met a Chantel before. She is blushing, I'll have to explain and of course I enjoy doing so.
"Chantel", for the uninitiated, is a beautiful French maiden who visits Lisdoonvarna, believe it or not, around early October when lustful Irish farmers, having saved the crop, go on holiday. Perhaps even ready to take a wife.
Lo and behold Mickey John meets with this French beauty, Brigid Bardot would have nothing on this one! Love. "l'amour", at first sight.
A passionate tour of all of Irelands beauty spots, the back of this Hi-Ace van has never experienced anything like this before, come to think of it, neither has Mickey John.
Ah, the love, the passion the ache of parting is nearly too much, I can hardly write thinking about it. But part they must, Mademoiselle has to return to break the news to her parents, that she is moving to Ireland, the axxxhole of nowhere, to marry the love of her life, she cannot be parted from him no matter what they say.
Tears, hugs, passionate kisses in the departure lounge, and then she disappears down that tunnel. He has no option, up to the viewing platform, is that her hand waving from a window seat, he waves furiously just in case it might be, the plane taxies and is gone, he returns to the now sad and lonely Hi-Ace van.
How could it be so empty, where's the laughter, where's the passion which had filled it this past few weeks?
Nothing for it, back to spuds and stirabout, but she'll be back in a matter of weeks, give me a bit of time to red up the house, maybe I should get a new bed, do a wee bit of painting about the place, get it dickied up for her, sure it hasn't seen paint since mammy, God rest her, died 10 years ago.
That's it, I'll get the place cleaned up, sure you wouldn't feel time going in when you're busy. One week passes no word, ah well, she has a lot to do; the parents might take a bit of turning round.
Two weeks, bedad still no word, I hope there's nothing wrong. You never know about them flaming aeroplanes and they say the traffic in France is fierce. Maybe tomorrow.
Not tomorrow or the next tomorrow or even the next.
Be God, I'll have to ring, she said just in an emergency, well isn't this a flaming emergency.
I'll go down to Maguire, he'll ring for me. Well educated that fellow, he didn't meet the scholars coming from school. He's me man, and not one to be talking about you round the parish. Not like some of them about here, Maguire it'll be the morrow.
Of course, Maguire rings…
Chantel? No, she's not here at present, she's gone to South America with someone she met on the plane when she was returning from Ireland, must be about two weeks ago now. We hardly ever see her, flitting from here to there, that's the young ones now a days.
Goes to show, don't trust them French blades; I'll not fall into that trap!
Kieran Mussen is the man I heard singing that song, he sang it in instalments over a few weeks in the Cove. Generally he was laughing so much himself that he couldn't continue, but he would be prevailed upon the following week to carry on. And one wondrous night I heard him sing it right through, quite a feat.
I'd love to get it, Leo Spence married to Cousin Ann O'Reilly, said he'd get it for me, but despite trying he hasn't managed it yet. Perhaps some day I'll get it.
I told this story, perhaps a shortened version, to Chantel here at reception, now she's good looking and could easily have been the Paramour of the poor unfortunate owner of the Hi-Ace Van. "How could women be so cruel?, I ask myself
Time for bed.
---
Days 35 to 40

BACK to Camino Home Page