Day 1- 25th March - The Big Send-off
I wake very early (5.15am), I'm not ungrateful, but too many callers and well wishers from the previous evening means I still have preparations to make.
Then the house starts to fill. My own family; Dick and Wilbur - no golf today, down to see me off instead; Harry and Damien, colleagues from my working days, they, together with Rosaleen and Angela, are going to take care of the Hospice Golf Classic at Warrenpoint.
It's great to see everybody, I realise I should not be mentioning names; I am bound to leave so many out. But there's a few I must mention because they are so special or have been such an enormous help to me in my preparations.
My Uncle Tommy and Aunt Maggie have arrived with daughter Anita. I chastise him gently, I know he should not be out but I am very moved and exceedingly pleased. I have known this man and woman nearly all my life and it has been their example, and that of my father's sister, my Aunt Ann, that has brought me to this day. They are the last of the O'Callaghan and Boyle families, and we cherish them dearly.
Rowan is already here, beavering away on his laptop; he has interviewed me and is preparing his piece for the Newry Democrat.
My sister Ann and husband Carl arrive.
My children and grandchildren are already here, except Nuala, George, James and Sinead. They fly out to-day for Disney Paris and were on the phone before they left. There's magic in the air here too! Shelia and Rosemary are here now; babysitters from away back, their own children are now grown and away from home. Phyllis and Jack have arrived, so also has a cousin, Pat; he's driven from Downpatrick to be here to give me this great send off.
I start getting anxious - it is getting close to 9.00.
Rowan calls for a photograph, all out to the yard. Sheila from across the road has called to wish me well, is she in the photograph I wonder? Philomena's here with her grandson, but won't come into the photo. Rowan organises us and gets the picture taken.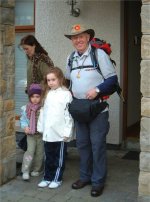 9.10 am; it's time to go. Bernadette and Danielle lead us out. More people, more handshakes, hugs and kisses, I reach the main road and we are off, strung out along the footpath.
I look ahead, Bernadette and Danielle are already away round the Monument corner, and I am the very last. People are constantly coming over to wish me well. I am able to walk for a while with Henry, he of the wonderful pint, and big Jerry, who tells me the Swimming Club are giving £500 from their Christmas morning swim to Concern. Great news!
Catherine and Tommy are with me for a while. Catherine has tried to give me a little help with my French, but like many well made plans, I'm afraid I wasn't able to get down to it. Benny, Manus and Chester have been with us from the house and will walk all the way to Dundalk.
It's a beautiful morning and the sun is dancing on an almost calm sea. Memories of youthful days spent swimming from the Baths to Gunaway Rock, across to the yachts at Sandy bottom and back again to the Baths, come flooding back. One of the joys of walking!
We all, I'm sure have flashbacks, but if you are driving you must suppress them and concentrate on the road. Whereas when you are walking you can allow images and memories free rein.
More well wishers: I spy Charlie and Eileen, Alfie has joined us and here is Mary to give me a big hug. Here too are Paul and Paddy with their Concern bibs on, here to wish me well and God's speed. These are the people who deserve our support, year in, year out raising funds, working away for those who so desperately need our help. Well done lads and all in the local Concern group. I know it is not easy to be continually going around your friends and acquaintances looking for money, but stick at it, we do not know the good we do.
Narrow Water is in sight. More people. Hilary has come out from his office to wish me well; we shake hands across the wire.
I catch up again with Brenainn, Oisin and Tiarnan, three of my grandchildren, and I see Brian with Lilli in his arms, she's only 3 but walked as far as the Well Road.
Here we are, Narrow Water. The boats are here, Peter Finnegan with his friend Michael Harris-Barke have the rescue boat from Carlingford, and of course the Mighty Quinn (Patsy) with the inflatable, is here to ferry me across.
But before that I have to greet all these well wishers and say my farewells. Here's "The last of the summer wine crew", I want a photograph taken with them, several photos later and after much handshaking, hugs and kisses I am down at the boats side.
Rucksack off, lifejackets on and I'm in the launch for the photo call. Session over, I'm now in the inflatable and we're off, accompanied by a massive roar from the assembled crowd.
We do not go straight across but allow the rescue boat to precede us - Rowan needs to get a photo shot with the Keep in the background. I know he's right and soon we are heading toward Ferry Hill dock.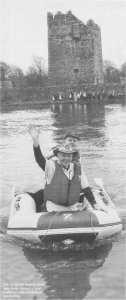 "Come right at me" Rowan roars, and Patsy, skilful boatman that he is, does exactly what he is told. Must be a great photo.
We are greeted on the Omeath shore by Gerry and Christine, Gerry is joining us to Dundalk. We bid our farewells to Peter, Michael, Rowan, Christine and Patsy, wave one last time to our friends across at Narrow Water and set off up the gentle slope towards Davey's pub.
We are now; Bernadette, grandson Jack (who intends to walk with me for the next few days), Anne-Marie, Benny, Manus, Chester, Gerry and myself.
On up the hill: steeper now towards the Flagstaff. Here are more friends coming to meet us; Theresa and her son Paul, together with his girl friend Kate. They have parked at the top and have walked down to meet us. We walk up the hill together.
The sun shines, every bush and tree is budding with new life, here and there the odd blackthorn in full bloom. Every field seems full of lambs butting into their mothers looking fed. It must be a good year for lambs; every ewe seems to have two.
Spring is definitely here. New life, new beginnings all around and new beginnings for me too, I muse. I can feel it, almost touch it and stride out.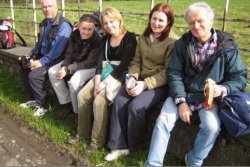 Time and miles pass, we are at Carrickgarnon, with the Carrickdale just ahead and time for a break, a bowl of soup and sandwiches. Again ours friends from Concern are there to urge us on. We go in for a welcome sit down and are warmly greeted by John McParland who looks after us royally.
Suitably refreshed, we head on towards Dundalk. A few people are tiring but no one complains, we press on. Traffic is very heavy, we walk in single file. Theresa and company have turned and are heading back to their car. We thank them for their company, wave and walk on.
Road works, signs of a long overdue carriageway to the North, the one going North - South is even longer overdue. But that's for another day.
Dundalk is in sight, only a few more miles to go. Get to the far side of the town, almost as far as the Fairways Hotel for our B&B for tonight.
Here we are; Antoinette, Christine and my son Brian are here waiting to lift those not staying or walking on the morrow.
We are warmly welcomed by our hosts Briege and Noel. Final farewells to those departing and in we go to have an hours lie down before getting ready to go to look about some food.
I draw a deep breath, first day over.
But I know I am being well looked after - on my way to Narrow Water, Barbara had given me a clean handkerchief and a bar of chocolate, saying, "Mammy always said take a clean hankie and a bar of chocolate with you".
I hadn't remembered at the time, but her Mammy had died a week or so before. So now I have Alice, Barbara's mammy, Our Blessed Lady and St. James looking after me - how could I go wrong!
---
Day Two - 26th March
TOP
Up early, ready to go around 10.00 am. Sean Campbell has called at the B&B and has taken the heavy stuff out of our bags on to Drogheda; he'll park there and get a lift back to walk with us.
We head out and very shortly after Sean joins us having taken a taxi back. We cover the ground quickly and are soon in Castlebellingham. Traffic is a lot lighter now; occasionally we glimpse the traffic over on the motorway. It's a fine morning and we make good time.
I have time to reflect on the send off yesterday, other names and faces come to the fore.
Francie and Ann are there, so is Matthew, and the two Peter Kinneys. I remember I had intended to ring Kevin and Maureen in Australia; I'll have to leave it now. I walked for a while with Jim, from the "Tuesday night sessions"; he hopes to join me for a while on the Camino. Brilliant if it comes off - he plays tin whistle and has a wealth of songs and tunes. Good man for a session - would be great for the Square in Santiago. I know Eddie and Leilia will be there and Eddie will have "the Box" - the man of 1000 tunes!
We lunch in the Grove Hotel and press on. Monasterboice next and I think of the many picnics we had exploring the Boyne valley, long before the interpretative centre at Newgrange. Back then, you simply drove along and entered through the gate. They've done a good job with the centre, it's worth a visit.
Past the monument commemorating the Pope's visit, we know he is very ill and remember him kindly. That was a wonderful day, everyone in holiday mood, sharing stools, sandwiches, stories - great camaraderie. And he had a powerful message, unfortunately, those who should have listened, didn't.
I am tiring and I am very glad to arrive at our destination. Sean takes his leave of us here and heads back down the road taking Jack with him. Jack wants to be at home for Easter Sunday.
Michelle, a friend of Bernadette's, has arrived by bus and intends to walk with us to Swords and Dublin. Michelle tells us she had gone for a warm up yesterday and walked for about 10 miles. The result, she has blisters! Mind you, she is still determined to walk.
We go down into the town for a meal but have an early night.
---
Day 3 - 27th March
TOP
Early start, we have a tough day ahead, full packs and 23.5 miles to Swords, perhaps a bit more to the next B&B.
We are on the northern side of the Boyne; we go through the town over the old bridge and up the hill. It is quite cold but dry. Michelle is doing well, says she is okay, we press on.
Traffic is light we can walk together and chat as we go. We make good time; we'll stop at Balbriggan for lunch. Peter calls to find out where we are. He's coming up with the family and we'll have lunch together. Michelle is beginning to suffer, but does not complain. We reach Gormanstown, time for a "rollie". No smoking in pubs now, so the girls sit at a table outside. I go in to a great warm welcoming fire, as it is cold outside - "3 coffees please!"
I tell the girls to come in whenever they are finished, get my boots off and sit up to the fire. I am the only customer in this part of the bar. The girls come in - "How could you be so cruel, taking us in here! Oooh, we could stay here!" We take a long time over our coffees but eventually we move on.
Balbriggan - Peter, Heather, Brenainn, Tiarnan and Oisin are waiting for us. Tiarnan's class are doing a project on the walk, it will involve history, language, geography, a little bit of maths, together with some African studies and a look at how people in other countries live. The whole school is going to raise funds to support the walk. I have already been down to talk at a school assembly and I will go back whenever I get back home.
Relief! - Peter takes our packs through to the B&B.
We see a sign 18km to Swords and I know it is at least another one to the B&B.
"Michelle…?" - No, she won't give up, so we move on. Slower now, Michelle is suffering.
We come to another sign, 9km to Swords, a groan, she's had enough.
We find a pub and I leave herself and Bernadette, probably about 6 - 7 km from Swords; I plod on.
Some time back Andy and Carron (two of Bernadette's friends living around Skerries) had come out to see us and we arranged to meet in Swords for a meal. We have difficulty contacting them but eventually do.
Despite the extra daylight, with the hour going forward, it is getting dusk as I arrive at the B&B, where the girls are anxiously waiting.
I manage to have a quick wash before Andy arrives to take us into Swords for a meal.
---
Day 4 - Into Dublin - 28th March TOP
We're on the road, good breakfast, a good house, nice people. I have loaded Bernadette's bag, we think Michelle will catch a bus, then taxi up to Jury's Inn, so we might as well get rid of the weight, she could handle that.
We walk into and through Swords. Michelle says she's okay, great, Bernadette has the load, and I can stride out. I have been jettisoning items since we started, even my faithful Penguin Book of Irish Verse. I have carried it everywhere and always read it on planes or anywhere when I have to pass time. It also is now gone, I'm down to a slim trim load.
I look out for familiar landmarks; we are approaching the Airport, a straight road into Dublin. Everything has changed, so much development, I am lost but know there is only one straight road. We keep on. The Airport junction, a frantic honking of a horn, so many cars, then we see it, a red Ferrari, and a beaming driver, honking and waving. It's Theresa, a remarkable coincidence, quick thought, we'll get rid of the bags - but too late she's gone.
Actually, as we subsequently find out, she's gone to the B&B where we will stay the following night. She will leave her car, get the Dart back to Dublin, meet us at Jury's Inn this evening, and walk with us tomorrow.
What could be better?
A grand morning, we go on towards Drumcondra. The Independent Bridge, Croke Park to the left, I was there in '53, gates were burst in and I surged in with the crowd, myself and Seamus. We were playing with Camlough Band and all had come up to Dublin to support a great Armagh team. I am let out on to the sideline - "Where's Seamie, I can't see him?"
I was 16 years old, but looked younger; the man on the sideline gate was probably worried that I would be swamped, or trampled or worse. It's not a bad thing to be small at times.
Was that the day I wonder whenever Armagh were playing and the band marched down O'Connell Street and split at Nelson's Pillar, to rejoin at the other side. Or was it the day that we, i. e. Seamie, Paul (Smith), and I met 3 lovely girls and had a photo taken at O'Connell Bridge.
What's this to do with a walk to Santiago, I ask myself, but memory and recall have full control. We pass the fine Red Brick houses on the Drumcondra Road; I left a girl out here from a dance one time. Can't recall her name, but a lovely lassie. We were innocent, no hanky-panky then - a kiss, a cuddle, God bless you and away home.
Seamie and I were at a dance, was it called the Pavilion? At the top of O'Connell Street, over left, a great dance for nurses apparently. At least I didn't miss my lift home that time. I did from Dundalk and Seamie and I walked into the dawn to arrive, as I had many mornings before and after, to meet my mother going out to 7.00 Mass.
I remember seeing Dermot Boyle at Narrow water, he was with my mother whenever she collapsed and died coming out of the 7.00 Mass at the Dominican. We have always been grateful to him and I am sure we have told him so on many occasions.
A great prayerful woman. I know that if my children can feel the love that fills me whenever I remember my mother and father, Alice and I will have done a good job.
Here we are in Capel Street; journey almost over for the day. I've had a call from Finn and Frank, they have played golf and are on there way to join me for part of the walk. We miss each other, but meet up at Jurys; however, I consider that they have walked a part of the Camino with me.
Delighted to see them, and we arrange to meet in circa 30 minutes in the lobby. Sun's shining, lots of people taking full advantage of it, quite a crowd over at Christ Church.
That would be a good place to see, Finn is an engineer, as well as a great conversationalist, Frank is an agent for Gilbert Ash, and I have done my stint in the building trade. It will be interesting both structurally and historically.
I head up to the room and down again and we head over to Christchurch. Worth a visit, it has been beautiful restored. Watch a part of the historical film, then down to book O'Shea's for the night! We say our goodbyes and I head up for a soak in the bath.
We are to meet at 7.30, Theresa has arrived, Paddy, Deb and Corrina are coming in, Eamon - John and Stephanie's son; Noreen and Dara, Seamie and Mary's children, will be there. So also will be Brian, Anne Marie and family. They have been to the zoo, and theres a spare room at Jury's for them. The two Patsy's are on their way, and Gerry & Christine are in Dublin - quite a gathering. Craic will be good!
Eamonn, Dara & Noreen have been on a year out in Australia, Thailand etc., we'll get up to date. I know they visited Kevin & Maureen in Perth, they were there before me earlier in the year.
Meal over, Paddy has the guitar, but there has been another Earthquake. He is constantly on the phone. A bit of quiet, "The Hug" is the first song, written by the one & only Ben Sands, I have already taught grandchildren the chorus and even Lilli joins in!
I sing, Deborah sings and then at my request recites "The boy who won't do as he is told."
As the children have just been to the zoo, they are totally captivated and obviously can see this boy being devoured, first his feet, then his legs, his knees - "Down Tonto, down I say, but of course it's too late - that tasty morsel has gone". Wild applause, Gerry sings, very aptly, "Here's a health to the company". Several songs later I call a halt - 11.30. Last song, Paddy sings my favourite of all time, Tom Paxton's - "When princes meet, poor little men must tremble" . I never learned it, it's Paddy's song and I could never do it justice anyway. Of all the anti war songs I consider it the most powerful. A long, long time ago I learned Eric Bogle's - "Waltzing Matilda" , and I occasionally sing it, then Willie McBride, again E Bogle, then "My name is Francis Tolliver" - I don't know who wrote it, but I learned it from the singing of Danny Doyle. There's a powerful line in it - "At each end of a rifle we're both the same."
Later I am to learn and sing Cathal and Micky McConnell's song "Christmas 1914" . It and F Tolliver relate the story of the British & German troops fraternising on the Front Lines on Christmas Eve. They paid dearly for it. Princes meet or the captains or kings couldn't allow that. Many thanks Paddy. Of course we don't all go home, into the bar where the last 2 sets are being danced, eventually to bed, 10 mass at St. James in the morning, a proper start to a pilgrimage!
---
Day 5 - March 29th TOP
Waken to hear Patsy Quinn complaining that despite showering, using the most expensive, and toiletries etc. he didn't even get one kiss! What's the other Patsy thinking of!
Down to a hurried breakfast, Jack is there, Theresa comes in, "Only a few minutes to the Chapel" says she, Jack and I are off, full pack, Aussie hat on, away for 10 mass. Mass has started, we kneel at the back, a sizeable crowd, Holy Communion; we receive and return to our seats.
At the end of mass the priest welcomes the pilgrims and wishes Gods and St. James's blessings on our Journey, we and any pilgrims are always welcome to the Church of St. James. I go into the vestry, greeted warmly and I have the seal of the Parish, not a stamp on my Pilgrims Passport. The good Father has been expecting me and obviously recognized the Concern T-Shirt and the shell, which I wear about my neck. I am very proud of this shell; it is not the scallop shell, the sign of the Pilgrim, (I also have a scallop shell hanging on my bag, kindly given to me by Theresa, who has walked the Camino twice from the French side). Allow me to explain, my friend and fellow "Last of the Summer Wine" walker, Rowan Hand, he of the photographs and reports in the Newry Democrat, has recently been in Africa doing a documentary on the SAM Fathers, who celebrate an amazing 150 years of toil in Africa. Anyway after Mass one day in Badagary, Western Nigeria, Rowan is taken for a walk along a road leading to the beach, up a slight rise and then down to the beach, the very same road and beach down which a million or more souls walked, men women and children, to be ferried out by canoe to the slave ships waiting off shore to take them to the Americas. We can be so very cruel, and it's still happening today - think of those containers with their human cargoes, the young girls sold into prostitution, need I go on?
Back to the shell, on way down to the shore Rowan spotted the shell I proudly wear, he knew of my intent and of how I wanted to raise awareness of the Continent of Africa's plight, so he took it home and himself, Patsy, Donal, and Benny had a little ceremony one day in the Shelbourne and presented the shell to me on a leather wang, to be worn on my Camino. I do so with joy.
Theresa has been in mass behind us and she waits for us coming out of the vestry, we walk together, she also has her backpack since she will walk with us to Bray.
Guinness Brewery, St. James Gate, Irish Pilgrims left from here since the 11th century, Arthur has stolen the name and of course made it World famous. However he has made amends since 1998 and Pilgrims Passports are now stamped here at reception, he also helps the St. James Society with the production of the Passports. We; that is Jack, Bernadette, and I go in and have our passports signed. Bernadette and Jack intend to join me as soon as they get their summer holidays. I hope they will be given credit for their walk through Ireland. All are here now, Deborah and Corrina have arrived, Corrina will walk to Bray with us, two Patsy's, Bernadette, Jack, Theresa, Corrina and myself will walk, Michelle goes home today, but she did well - Drogheda almost to Swords and Swords to Dublin, with blisters! Whaho ye boy ya!
The others, Brian, Anne Marie, Lilli, Danielle, and Deborah, will walk a token way with us from James Gate. We assemble in the gate and Brian takes the photograph. What a pity he can't be in it! But looking at the shot that he took I know it could not be beaten.
We head out through the Dublin Streets, a slight drizzle, we don the wet gear and press on. We call with Fr. John, a friend that Theresa has met on the Camino, in the Jesuit House on Moorhampton Road. I think of Alice and the great regard she had for Fr. Michael McVerry and the work that he does with young people in Dublin. His mother lives just up the road from Nuala now. We are made very welcome, tea, coffee, soft drink, biscuits. And my God so many bananas, I haven't seen so many together since we had the shop in Monaghan Street. Enough to keep us going for a week!
We leave well refreshed and the rain has eased.
Is Patsy girning or having us on? I know the latter; he likes to lay it on," I'm done lads, couldn't have gone another step!"
Galloping Green in for sandwiches and coffee and out again along the N11. Not the pleasantest of walking but we are safe on the hard shoulder, traffic thunders by. Approaching the M11 must leave and go through Shankill. "Where's this B&B, this fellow told us a short walk today".We call into a pub for a beer, the girls go on and we follow shortly after. Here's the B&B, Theresa and Corrina leave us here. We are now down to four - the two Patsy's, Bernadette and myself.
Patsy Q has a shower, dons pyjamas, gets into bed and says he's not for stirring! But we do manage to get him out into a taxi and down for a bite to eat later. So ends Day 5.
---
Day 6 - March 30th - Bray to Beehive.(A few miles past Rathnew) TOP
We're up and away after a hearty breakfast - the two Patsys, Bernadette and myself.
We get on the N11 very quickly; our B&B was well outside of Bray almost back on the road taking us nearer and ever nearer to Rosslare. Wide hard shoulder and we can walk in twos. We alternate our company, Patsy McDonald will leave us today, he will branch off for Greystones, We pass the first Greystones sign and perhaps an hour later we see another, Patsy will take his leave here but not before the other Patsy relates the story of some of his youth.
At 16 years of age he moves into his Grandmother Quinn's House. Up to now he has lived in a small terrace house in St. Clare's Avenue, with a fairly large family. Suddenly he has a room of his own and freedom to come and go almost at will. BUT that's only a small part of it. Granny bakes lovely soda farls having gone down town to get the choicest fat which she loving and tenderly renders down. Each Saturday morning while Patsy lies up in his bed (lazy sod!), Granny prepares "The Fry" and proceeds to carry it up to him.
Poor Eileen has had something to live up all these years. We rag him mercilessly. Patsy's away, we enjoyed his company and only learn later that he had about 10 miles to go!
A car pulls up in front of us; it's Eddie and Leila. They have taken a long way home from a wedding in Carrickmacross.
A warm hug from Leila.
Did I ever explain to you why men as a rule do not hug?
Well, Pat Fitzsimmons has it figured out. It's really very simple.
One day, one of the girls, I think it was Judith, hurts herself. Pat cuddles her to comfort her; she leaves him and goes to Eilis.
"Here…! Why did you leave me?"
"Mammy's spongier" comes the reply through the fist stuck in the mouth.
So there you have it girls, you are definitely spongier. Keep them hugs going!
We are delighted to see them, they take our bags and Bernadette who needs the toilet very badly, but has refused to go although there were several likely spots along the road.
We are still about 2 hours from our journeys end, but they say they'll wait and join us for dinner. They return shortly, and Bernadette and Eddie join until we reach the Beehive. It has been a long day. Patsy, true to form, has a shower, into the PJ's and gets into bed. He is not for stirring - okay "Granny" will provide -
"What would you like son?"
"Burger and Chips, Granny"
"Any of my soda farls, son?" - I beat a hasty retreat down the stairs.
Good company, good meal, tired but getting there. I am content.
---
Day 7 - March 31st TOP
Day starts well; Pauline who serves us breakfast at the Beehive gives me money for Concern! Perhaps not a lot, but well-meant and very much appreciated.
I have been given money earlier, which I perhaps haven't mentioned, Briege and Noel at Fairlawn's, a man on the street, others come later. We have been most fortunate with the weather, a little rain in Dublin only; we set off in good heart.
It was great to see Eddie and Leila yesterday, I think of the friendship we have forged over the years; Alice was very fond of Eddie and appreciated the help he was to us whenever I was in the Royal Victoria. The healthiest man in it according to a wonderful man, Dr. Pantridge, how many lives has that man saved with his quick response team, which is now used universally throughout the world.
Anyway I had been hospitalised with gangrenous feet, after spending circa 2 weeks on a job around Dungannon. There had been a fierce flu epidemic, no foremen on site, no agent, and 30-40 men, on a water scheme. I said I'd go down to look after it.
Hard, hard weather, an old van, no heater, out all day in welly boots. The only relief I had was into The Moy at lunch time, a hot whisky, lunch and out again. Home and roll into bed - socks still on trying to warm up.
Two weeks later my feet are turning blue - Dr. McGeough! (Plenty of stories in him!) A most interesting character, a terrific man! Much loved by the people around South Armagh and Glenanne. Loved by all of us in fact.
Anyway, he landed me up to Daisy Hill and from there to the Royal. Two operations and circa 7-8 weeks later I'm home.
I still suffer from Raynaud's disease, discovered by a Dr. Raynaud in France in about 1850 and really came to be known during the 1st. World War; as it particularly affected young men 28-32 years of age. Of course it's more widely known and recognised now in other ages and groups.
Anyway, all that time Eddie transported Alice up and down to the Royal each evening and was an enormous help and friend to us. You can't repay friendship like that. Leila we know almost as long, Alice vetted her of course! Isn't it wonderful to have true friends?
Arklow is an easy walk and we arrive and settle for the night. Sadly this is Patsy's last night, he'll catch a train or bus in the morning for Dublin and then home. He has been an inspiration, a great companion, I know
I'll miss him, and unfortunately he won't be on the Camino.
He's off on another adventure, to Canada, in the summer with that most talented of families, the Rooney's. They played at my night in Newry Shamrocks, fair dues to them, and took the house down. A couple off All Ireland champions there!
Anyway, Patsy goes with them (he's a fair bodhran player himself), on a tour of New Caledonia. Patsy has kayaked around its coast and has made numerous friends there - mostly of Scottish extraction, but like the Irish they took their music with them. They'll have a ball. Perhaps one of the last times they'll be together as a family group, they are all growing up and some must soon leave the nest.
It should be recorded; perhaps some one is taking care of that.
Arklow ahead, we are soon in the B&B, snug and warm. Then up the street for a feed - "Would there be a session anywhere?" we ask.
But halfhearted, even though it's been a short day, we are tired - off to bed!
---
Day 8 - April 1st TOP
We head into town, now 3 but very shortly we will be 2 only. The Mighty Quinn leaves us here; he will catch a bus for Dublin. Our B&B was the Dublin side of Arklow so it takes us 15 minutes to get to the town centre. There's a bus due in about 25 minutes and despite the regard we have for the man - he has been wonderful company - we press on. Warm handshake, a hug from Bernadette, and we're away around a corner heading back to the N11, always moving Southward. We are each lost in our own thoughts; we are moving into a very historic part of our Island - Gorey, Enniscorthy, Vinegar Hill, Boulavogue.
I resolve to visit the '98 centre in Enniscorthy but then my thoughts turn back to earlier days in Tullydonnell - "Give us a song Brien!" - Not Brian, "Brien".
"At Boulavogue as the sun was setting…" - how many times would I have sung it?
Myself, our John, George White, (who has spent most of his life as a De La Salle Brother in Africa and is still there), Patsy Murphy - sadly long gone, playing fiddle or mouthorgan, our John played as well, but sure then he could play any musical instrument. It would either be in Grannies, - no Patsy Quinn fries for us, eggs were money, you got one at Easter and Christmas, plenty of stirabout, griddle bread, from your own oaten meal, and of course either sweet or buttermilk - or it could be next door in Murphy's.
"Tights" as they were known to distinguish them from "The Joes", "The Perches", "Podgys", "The Carpenters", "The Rooks" - all Murphy's and of course "Father Murphy" was the man at Boulavogue … why wouldn't I sing it!
George had a fine voice, "There' a bridle hanging on the wall" was probably his favourite. But then we sang loads of songs, including the "Penny Verses" that Tommy or Peter took home - bought off a man in the street in Dundalk.
They were parodies, or songs written which you sang to a well known air. I'd love to have them now; one I remember was called "Goats Butter" . Unfortunately I only recall the name. I was fond of it and used to sing it when asked.
There were visitors to both houses, and plenty of singers, both houses were Ceilidh Houses, so we were never short of craic.
It's wonderful how the miles roll by when your deep in thought, we have a short run today.
Bernadette has decided she is not walking on the morrow; she will take my clothes to the laundrette, as many as she can get!
"Daddy, they ALL need washed, and you have a good bath!"
Daughters… hen peckers! But I love them dearly.
Nuala has returned from Paris, Disney and will be down this evening, Brian and all the family will also be down. We'll have a family meal this evening, I relish in the warm glow at the thought. Before that however, at Bernadette's suggestion, I should walk on after I book in, and thus reduce the distance to be covered the following day.
Gorey to Enniscorthy is a fair jaunt so I decide to take her advice and after an hours rest. I head out along the Enniscorthy road. I cover almost 6 miles before Brian catches up with me. He'll leave me out to here in the morning.
I don't have that bath, but Brian and Anne Marie have chosen a good pub where we can eat. Away in the back we are in a snug, fairly large and we have privacy.
Entertainment starts after dinner - Danielle dances both Irish and Modern, she is already a good dancer, and shows great promise. No inhibitions there!
Then it's Lillie's turn - 3 years old, copying everything off her older sister.
BUT she has a new dance, which I have to do with her. According to Brian and Annemarie she has made it up herself - words, music and movement. No guesses for what they are. We gyrate around the floor, where am I getting the energy for this!
Great night and we retire - at least, I retire!
Nuala arrived and I have been updated on Disney. Our special boy James - all grandchildren are special but perhaps James especially so - loves Disney. Anything to do with Disney characters and so on and I hear all the news.
I'll get it again from James whenever I meet him.
I think of the love that Alice had for James and I rejoice in the memory.
---