11th to 22 April - Villedieu continued
Villedieu les Poeles is a beautiful town with a wonderful foundry and craft village, it is quite touristic. I wandered around after my experience at mass, in and out of the myriad of shops, all displaying enumerable articles of brass castings. I leave for St. Hilaire de Harcouet on the morrow but before I leave a codicil to my earlier musings about the Catholic Church.
My disagreement with the church is not necessarily to do with the scandals, which have beset it recently. In actual fact, I am full of admiration for the young men who now have to face down those who would tar everyone with the same brush - a few rotten apples have created a terrible stink.
I also hold in the highest regard priests like my friend Pat McCullough in New Zealand, he has laboured long and hard, a saintly man; men like PJ. Gormley and so many of his fellow SMA Fathers. Men of the calibre of Fr. Michael McVerry, priests at home who have hung in there, lesser men would have quit.
No, my gripe is with the hypocrisy; with the imagined need to protect the Church at all costs; the crime of passing a paedophile to another situation, another position of trust, is unforgivable; the imagined need to hold on to a position where, teachers for example, could be appointed, the arrogance of spending money gathered from parishioners without any accountancy for same, without thought for value or need, all this galls and goes deep.
However, that's not what I intended to write about. I wanted to relate a story, not unconnected to my yarn about Alice O'Boyle.
Alice O'Boyle, God be good to her, was a cousin of Mick and Cathal O'Connell's mother. I sing a number of Mick's songs, "Supermarket Wine", "McKeown and I"; the song that I think Cathal wrote but Mick adapted "Christmas 1914", and others. Cathal was, probably still is "The Boys Of the Lough".
Anyway, their mother was very ill, on her deathbed; but she refused to go down to the room, she lay in the kitchen. She wasn't going to miss any callers who might turn up asking as to how she was; she held court and granted audiences to everyone who came.
One evening when she was particularly low, the local clergy arrived. Parish Priest and his Curate.
After the preliminaries, the Parish Priest said he would administer extreme unction - a sacrament to give courage and sustenance to the dying.
This lady had been the headmistress at the local school for many, many years. Much loved and respected in the Parish. The prayers are said, the family are gathered round.
It comes to the part where in the creed it says, "Do you believe in the Holy Roman Catholic Church", at which point she opened one eye and said, "I used to", promptly closing her eye again. A gasp from some of her family, "Mammy!"
Is it any wonder that them lads can craft songs with the wit and humour that has come down to them from such a wonderful lady.
I head out on the up hill - where are the down hills?
Road for St. Hilaire.
I notice the architecture is changing, not so many stone built houses here, the odd one, mostly plaster, I see very little brickwork, and any that there is, is purely decorative panels. Barely discernable. Stone or plaster is the order of the day. The road is still hilly, and the weather has yet to improve, but I do notice a change in the hedgerows.
Surely, I couldn't have come very far South, but these hedgerows are definitely further on in leaf. I also notice and admire a plant new to me, it has the same leaf, and colour as the beautiful primroses I had admired on the Piste Cyclable and along the roads, I have travelled, but here it is in the form of bells. A stem perhaps 250mm in length, with a head of bell shaped flowers. They line the sides of the drainage channels, which are ever present along all roads, minor and major.
The few people I meet continue to ignore me, they are not being impolite, it is their way, and I am a stranger in their land, and must accept the difference. "Vive la difference", there I go back to the Blondes again!
Perhaps the next time I'll tell you about my discovery that girls were different! Again "I'll rough it on the Camino!" and book into a good Hotel.
Today is the 22nd of April; I have completed 4 weeks of my Camino! 1/4 of my allotted time. I can honestly say that it has flown, I never realised until I sat down earlier to take stock that so much time has elapsed. I am in reasonable hotel in Airvalt.
Airvault is perhaps 3-4k off my direct route to Parthenay but the direct route from Thouars to Parthenay was over 44k without any hotels on route, as far as I could gather, so I chose to add perhaps 6k overall but to walk in two days. I am glad I did so. Airvault looks more like an area on the map rather than a town. It is very scattered, has a Chateau, an Abbaye, a Roman Bridge over the river Thouet. I see now I have missed the Roman Bridge it is several kilometres behind me now at a village called St. Generoux.
I can pick up a Piste Cyclable in the morning, it looks as if it meanders along beside the river Thouet, eventually reaching Parthenay. I'll take it. It will mean perhaps 30k tomorrow but I am well rested to-day, finished walking shortly after 3.00
When I left Thouars this morning I thought I would have a wander around Airvault, after I checked in, but the flesh is weak, I had a good warm and lengthy soak in the bath.
I cannot wash out any clothes, there is no heating on, so I put all my washing into a plastic bag and went off to find a "lavomatic". Nearest one is in Parthenay! Perhaps tomorrow. I've had a good lie down and am now fit for bottle or draft!
I now realise that I cannot do a daily journal, walk the distances I have been walking and then write it up at night. I am about 10 days behind in my writing to date hence the skip forward, I have made loads of notes but even they are becoming meaningless.
I will as briefly as I can bring everything up to to-days date.
Villedieu to St. Hilaire du Harecouet was a long hard day's walk, the weather was very changeable, the next day wasn't much better when I made my way to Ernee, the weather continued to disimprove on the Wednesday when I reached Laval. Disaster no accommodation in the town anywhere, there was a big convention of winegrowers being held and everywhere was booked out!
But there was a very charming and helpful girl at the Campinile to which I had called, and I do not exaggerate she spent a good 30 minutes on the phone, eventually she got me a hotel, about 6k away on the road towards Sable. By now it was almost 8.00, it was raining, getting dark, I asked her to call me a taxi, and she did. Therefore, I have cheated on the Camino, but I don't think St. James will mind one little bit.
I had one of those uplifting experiences here in Laval, Christine and Gerry McAlinden had and still do keep in constant touch. Christine is visiting her parents in Rennes, and she had said if she could, she would walk part of the Camino with me. Laval she could reach by public transport, she would take a taxi from the station and meet up with me at my hotel. So it was arranged.
I had come down, I think around 9.00 to find breakfast was over! I am hardly back up to the room whenever Christine rings to say she is in reception. I put my things together, and go down to greet her and square my bill. "L'addition". I explain I have had no breakfast, she goes off and shortly thereafter coffee and croissants arrive.
No charge, I was pleased.
The weather however is atrocious, fairly throwing it down, we sit and have a good chat, but there is no sign of it easing, I will have to go. Christine bravely wants to join me, she has an umbrella!
Naturally, I won't hear tell of it, we will be on a fairly busy road, we will have to walk single file, the lorries throw quite a lot of spray, and I'm geared for any weather. However, "Walk a 100 symbolic yards with me", and that's what we did. So, Christine you have been with me spiritually and physically on my Camino, and I thank you for that.
The weather ease in the late afternoon and I am thankful for the few kilometres of a head start I got on my days journey to Sable.
I stay over and wander round the town the following day. The town is built on the River Sartre, a fine broad river, now very discoloured with the fresh water, and running almost the full of the banks.
The rain had eased off although it was still very overcast. It has an impressive Chateau and fine gardens, which I visit, I never gained entrance to the Chateau, but I believe it is open to the public.
So here I am, Friday 15th April, staying over for an extra day in Sable.
Reaching here a few notable things have happened on my journey, a week ago today, (the 15th) on Friday the 8th our John and Stephanies girl Helen was married.
It was not a good day for me, I was home sick, I would loved to be at the wedding, to meet and greet so many of my relations and friends, it was particularly hard because our Anne and Carl weren't there either.
They had booked to go to Prague long before they knew about the wedding. All them Maginns, (and there's a lot of them!) would be there and our fella would have no one.
Not true, Tommy and Maggie were there holding up our side, and I've no doubt other members of the Boyle family.
But I was a bit on the lonely side.
I was delighted all my children were going up for the evening do. Bernadette was to go with me, but had decided to join the rest of the family for the evening's festivities.
The day previous I had sent our Nuala and email with my best wishes for Helen and Rory, she had dressed it up as a greeting, (far beyond my computer skills!) but the message was mine, heartfelt and sincere. In it I quoted the words of a Benny Sands song, (only the chorus now Benny, and I credited it to you) adding of course that if I was there I would sing it to herself and Rory, which of course I definitely would and danced as well at the appropriate time!
It wouldn't be the first time that I had sung it to a bride, as Carl, my brother in law well knows. Carl, Anne and I were holidaying in Amelia Island, staying courtesy of cousin Anthony and his lovely wife Ann, at their chalet in Florida.
Carl and I were playing golf, we came to a tee box, quite close to an hotel, and low and behold, here is a bridal party having photographs taken.
We tell them to carry on, but no please continue your game.
I couldn't resist it; I would have to sing for this bride.
Benny has a great song, many great songs, but this one tells the story of a wedding day, he calls it "Wedding Daze" - plug here, its on his Better Already CD- together with several other brilliant songs, some of which I have learned. Anyway, here's the chorus of "Wedding Daze".
"Here's to long happy days and many tomorrows,
And may any sorrows bring you no alarm,
You set out today on the trip of a life time,
May God speed your journey and keep you from harm,
And send you wee children to keep your hearts warm".
So I sing it for the bride, give her a peck on the cheek and then proceed to hit probably the best drive ever I hit in my life! Frank Nolan, Gregory Campbell, Finn Sherry where are you.
A screamer, way past the bunker, which was put there to catch the long hitters! "My God not alone can this guy sing, look at that drive!"
Peacock leaving the tee!
So that was the message I sent to Rory and Helen.
Later that evening my son Peter called from the Ballymac, sent me a picture of a beautiful, beaming bride and her husband Rory. I got to speak to quite a few people, John and Stephanie, my own children, Helen and Rory, and of course, Seamie.
Himself and Mary had been beside Tommy and Maggie all day and he gave me the best news I could ever hope to hear - Tommy had told him during the day it was the best day out he had in a long, long time.
It was late in the evening and they had gone home, but it was great to know they were there and had had a good day. I went off to bed happy.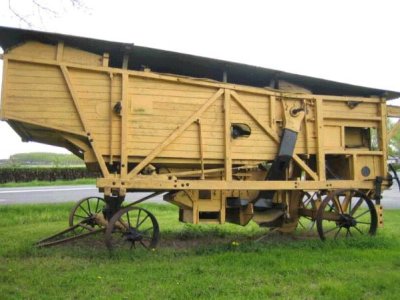 The other thing of note that happened during the days that I am condensing into a catch up episode was that I came across an old threshing machine. I could not pass the machine or pass my memory of 'The Thresher' without taking photographs and recalling the day of the thresher.
The seed hay would already have been drawn and neatly stacked. We'd now be at the corn.
The sides were put on the cart, over to the field, pitch and build the sheaves, tie them down. We would be sitting on top, holding on to the ropes, if the cart hit a stone or a big rut you'd be tossed, but hold on we would. Then, down Dan's lane past the Butchers, another Murphy, they kept a bull - interesting for a young fellow to take a heifer that was looking away to the bull, or a sow to the boar, we were close to life.
There were great hazel trees overhanging the lane just below the Butchers and even though they were not quite right for eating, grab at them we would, break the shell and devour the contents, only to pay later running to the back garden. Toilet facilities were of the primitive kind; docken leaves were a great substitute for toilet paper.
Down the road, up the steep turn and hill at Lavelle's shop, up the road, and turn up into the yard. Sheaves again pitched off, neatly built into a rick, and when all were saved, the rick was weathered, as the hay had been earlier.
Then came the news, "…the Beardies thresher was on the way, should be here in two days if the weather holds up, Barney Lavelle hasn't a lot to thresh, the Beardie will be with you Thursday evening".
Now there was work to do, bags had to be inspected and holes repaired with the big needles, stores made ready, the loft cleared, a good road ensured for the tractor and thresher, place selected for the thresher to stand. New bushes cut and laid where the corn and hat stacks would be. Everyone busy, the house would be red, that's how it sounded I don't know how it is spelt, swept and cleaned, the big deal table scrubbed and washed, a deal table white as snow.
On the day we would have to fill buckets of spuds, mash them up and down with a plunger until they were clean, and leave them for Granny to put into the big cauldron that hung off the crook over the open fire, which waited for some one to turn the fan bellows to make the coals red hot.
Aye coals, never coal, we would have to lay-in a big bucket of coals for granny as well. Carry buckets of water from either Campbell's Well or the shop. Not much difference in the journey, Campbell's water I think was better drinking water, down the hill field behind the house, into Campbell's ground fill the two buckets or cans and then up the steep climb back to the house. The path was cut across the hill to increase the going and reduce the rise.
There was a pump at the shop; actually opposite it I think, possibly a part of the school, often you'd have to go over to the stream to get water to prime it. Hang the bucket or can on and pump until it was full. Up the Ballinaclosha Road, a short enough distance, until you came to the turn up to "The Hill". That's how the house was known, Boyles or Murphy's on the hill.
There was bread to be baked - "How many would be at the threshing?"
Always a full table in Boyle's, plenty to eat, no scrounging there, there'll be a big crowd of men. All arriving on their bikes, with the pitchfork tied to the bar.
We would help Granny with the baking as well, we'd knead the oaten meal and white flour on the big deal table, granny would make it into big flattish round lumps which she then proceeded to thump into shape with her fist finally putting it on to the griddle and swinging it over the fire on the crook.
You might be then put to turning the handle of the fan bellows, which was connected to the small wheel by a belt, which often came off and had to be relocated.
Cousin Bridgie would have arrived to give Granny a hand, slightly younger than me but a great worker; she could do her share of bossing as well!
The house was the women's domain, and whatever they said you did!
God be good to her, Bridgie is now gone also. Wasn't that old when she died either.
Married a fine Newry man Noel Rodgers, who I see occasionally down town, and always enjoy the chat. If we'd got him a bit earlier, we might have made an Armagh man out of him!
Plenty of sweet milk and buttermilk in the crocks, which were kept in the shade and covered to keep them cool.
Everything now ready in and out, we only needed Grannies nod and we were off to where ever the mill would be at that time to get a bit of the action.
Peter and Tommy would have been long gone, maybe have been with the mill for two days or more. This was a form of the 'Micil'. In the Micil you shared your horse, two horses were needed for most tasks but you only kept one and you joined with some one, a neighbour, using each others animal and sharing each others work when extra help was needed.
Generally, we shared with Micil, my grand father's cousin, Murphy and we all lived under the same roof. Though as I remember it Murphy's was slated whereas Grandad's was thatched. I never thought of it before but the Micil and the name Micil for a person sound the same, I don't know how they were spelt, it's as I remember them sounding.
So that's the way it was you gave your labour freely, and got the same in return. Anyway, there was a neighbourliness there, that sharing and helping of each other, without thought of reward.
The mill's coming up the road, the Beardie will thrash for both houses. It matters little who is first, what is the most convenient, "that's a bad turn in from this side, we'll do Johnny Boyle first', so it would be. The mill would be positioned, the sides let out, cantilevering out to catch the pitched sheaves, the belts from the tractor, fixed, the bags hung off the hooks at the shoots, ready to receive their harvest of rich corn or grass seed. And we'd be up on the thresher ready to loose the sheaves and feed them to whoever was in the box.
This was a dangerous place to be, the box that is, from there you looked into the gaping monster which swallowed all the hay or corn you fed it, pulling it in with a swiftly revolving arm.
People have been known to lose limbs from this position. It was forbidden to us, so loose it would be, the men pitching the sheaves on to the sides and we loosed the hat or corn band. A lot later corn would be tied with cord and you then cut the cord, but for now it was a corn or hay band.
Tommy would be pitching, at least until the carrying of the full bags of seed started, and he was as deadly with a pitched sheave as he was with the milk from a cow's udder when he was milking. You'd get the smack of a sheave somewhere on your body, look round and there he'd be with a laugh or broad grin on his face
When you loosed a sheave you handed it to whoever was in the box, always the same way, never a butt this time or a head the next, you gave it to him as he had asked it, one on either side feeding him while took the sheave spreading it out so that it fed evenly on to the rollers.
The thresher shook and vibrated, as it took its precious feed beating the seed off the stalk, moving plates separated the chaff from the grain, the grain came flying out of the spouts and into the gaping bags, the chaff was discarded below the thresher, and the now cleaned stacks came tumbling out the other end.
Such a hive of activity: men drawing and pitching sheaves from the reek, other men gathering up the now seedless straw or hay in large pitch-forkfuls, up over the shoulder, two hands on the pitch-fork balancing the weight of the load against the shoulder, walk to where ever the new stack was being built and either leave it there for someone to pitch it to the stack builder, or pitch it right up to the man himself.
Most times, it was left and then it would be pitched in smaller lots, the building of the stack or reek was a skilled job you didn't want something that was lopsided which would not stand a fierce winter's wind.
A constant movement of people going this way and that, always accompanied by endless good-humoured banter.
Of course too, as the bags filled up, they had to swiftly whipped away and fresh ones hung in their place, no grain was going to be lost.
Once off the hooks, the packing needle was out again, turn the corner of the sack, a swift loop of cord darn across the top of the sack, turn the other corner, another loop, a couple of half hitches on the cord and the bag was ready to be taken to the store.
Now some of these were huge bags, 2 cwt. at least when filled. Perhaps two men would swing them on to another mans back, well up and balanced as he leant over to take the load and then proceeded to walk to the store which required him climbing perhaps 14 or 15 outside steps, as well as his journey from the mill. Hard heavy work, but it was Peter's and Tommy's responsibility and they did not shirk from it.
Tommy was small in stature, but tremendously strong, I have heard of his exploits, and the loads he carried when smuggling, he possibly would have been the strongest man there. And there were some fine big men about.
Meantime Grandad would not have been taking an active part, sowing up the bags perhaps, putting his hand in under the shoot to get a handful of grain, which was felt and smelt, before being tossed into the open bag.
Greeting everyone, who when spoken to generally stopped, leaned on their pitchfork and exchanged a few friendly words. He was treated with great deference and respect.
The kitchen meantime would be a hive of activity, Granny would be out to see how things were proceeding, and she too would be exchanging greetings, although her hearing was very bad and I'm sure she could not hear a word spoken to her above the din of the tractor and thresher, the smiles and greeting were warm.
"We're glad to see yees, welcome, how's your mammy, tell her I was asking after her. I hear you're getting married, good luck and long life to you."
Oh aye, hear or not she'd have the news of the country, not gossipy just what was happening and relevant.
I can't remember Granny ceilidhing but everyone who came to "The Hill" were made welcome.
Nellie, Kitty and Gertie, would be in from next-door now, they had their work done and were ready in their own house, so, in to give Mary a hand.
Tommy or Peter would go into the house whenever the spuds were boiled, and the big cauldron was swung off the fire, or it needed lifting further up the flat iron of the crook to get it a bit further away from the heat. This wasn't work for Granny; the cauldron would be much too heavy for her.
So, when ready they carried it out into the street and strained it.
The street as it was called, was roughly concreted, at least between the biggish stones with which it was littered, fairly even, falling away from the door and drained towards the dunkil (dung hill, I assume). The spuds would be turned out onto the table; there'd be plenty of salt, butter and plates, ready for the men who would have been called in then for a bite to eat.
There'd be rashers of bacon, black pudding, from the last butchery of pigs, maybe eggs, raw and fried, plenty of sweet and buttermilk, and loads of cool water. The mill was dry work, by this time, our hands and arms would be black, hands would be full of thistles, and arms would be red and sore looking from the constant abrasion of, particularly, the corn or worse still from the barley straw. There was usually some barley to be threshed, separately of course, a very coarse straw that would be used for bedding or to repair the thatch. That oaten straw - "Not worth a tinker's curse".
Now there'd be craic.
Some of the wags would be trying to get a rise out of some poor unfortunate, who if he was able, would turn the tables and redirect the jibes to whoever had started the leg pulling.
"Where had the mill been, where was he for next, would the weather hold do you think, not much moving across these days…", a comment on the smuggling, with which they all supplemented their income.
So it continued, until the tea was served. Steaming mugs of hot tea, well sweetened, and platefuls of bread. There'd be plenty of butter and jam, maybe from the shop, or perhaps gooseberry or damson, which Granny would have made.
Back out to red up, the stacks neatly trimmed and water tight. The sides back up on the thresher, the big belt off, hitched on to the huge tractor, and then the Beardie was off for his next threshing. Men departing for home on their bikes, there'd be no more threshing to-day, tomorrow would be another day, cheerful calls, then a quiet, the Hill was back to itself.
"Thank God, a great day's work, we'll say the Rosary"
It was time, soon the ceilidhers would be calling and the wet battery wireless would be turned on for the news.
---
Days 16 to 34

BACK to Camino Home Page